Nominated for: Blue Jasmine

Film summary: After everything in her life falls to pieces, including her marriage to wealthy businessman Hal, elegant New York socialite Jasmine moves into her sister Ginger's modest apartment in San Francisco to try to pull herself back together again.

Trailer: watch the trailer here.

The character: Jasmine is a wealthy New York socialite who suffers a humiliating fall from grace after her husband is arrested for financial fraud.

The critics said: "Blanchett, who has played Blanche in Streetcar on stage, is the film's glory. She is miraculous at finding the bruised heart of this bullying elitist. This is Blanchett triumphant, and not to be missed." Peter Travers, Rolling Stone

Jewels: The Chopard earrings are made in 18-carat white Fairmined gold from artisanal gold mines in South America, and are adorned with 72 marquise cut diamonds representing delicate leaves.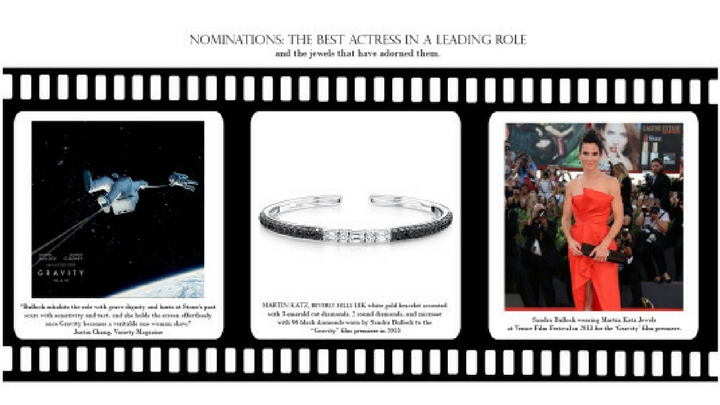 Nominated for: Gravity
Film summary: Dr. Ryan Stone (Sandra Bullock), a brilliant medical engineer on her first shuttle mission, with veteran astronaut Matt Kowalsky (George Clooney). But on a seemingly routine spacewalk, disaster strikes. The shuttle is destroyed, leaving Stone and Kowalsky completely alone – tethered to nothing but each other and spiraling out into the blackness. The deafening silence tells them they have lost any link to Earth and any chance for rescue. As fear turns to panic, every gulp of air eats away at what little oxygen is left. But the only way home may be to go further out into the terrifying expanse of space.
Trailer: watch the trailer here
The character: Dr Ryan Stone, an astronaut coping with the loss of her four-year-old daughter, is left adrift in space after a devastating accident.
The critics said: "Bullock inhabits the role with grave dignity and hints at Stone's past scars with sensitivity and tact, and she holds the screen effortlessly once Gravity becomes a veritable one-woman show." Justin Chang, Variety
Jewels: The bracelet was accented with three emerald cut diamonds weighing 1.01 carats, two round diamonds weighing 0.26 carats, and microset with 96 black diamonds weighing 2.26 carats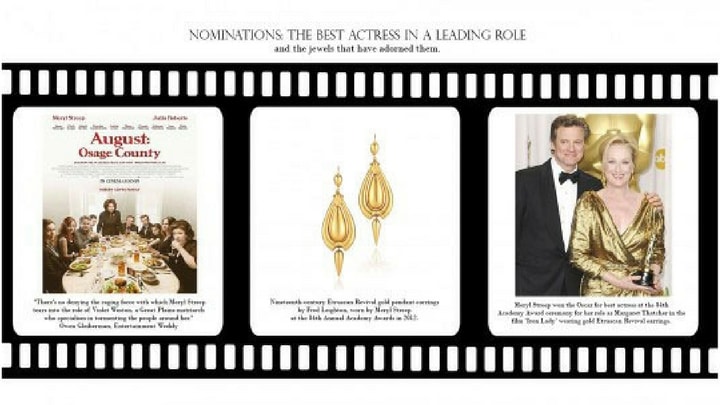 Nominated for: August: Osage County
Film summary: August, Osage County tells the dark, hilarious and deeply touching story of the strong-willed women of the Weston family, whose lives have diverged until a family crisis brings them back to the Midwest house they grew up in, and to the dysfunctional woman who raised them.
Trailer: watch the trailer here.
The character: Violet Weston, a family matriarch suffering from cancer with a penchant for taking prescription drugs and doling out searing insults to her loved ones.
The critics said: "There's no denying the raging force with which Meryl Streep tears into the role of Violet Weston, a Great Plains matriarch who specialises in tormenting the people around her." Owen Gleiberman, Entertainment Weekly
Jewels: Nineteenth-century Etruscan Revival gold pendant earrings by Fred Leighton, worn by Meryl Streep at the 84th Annual Academy Awards.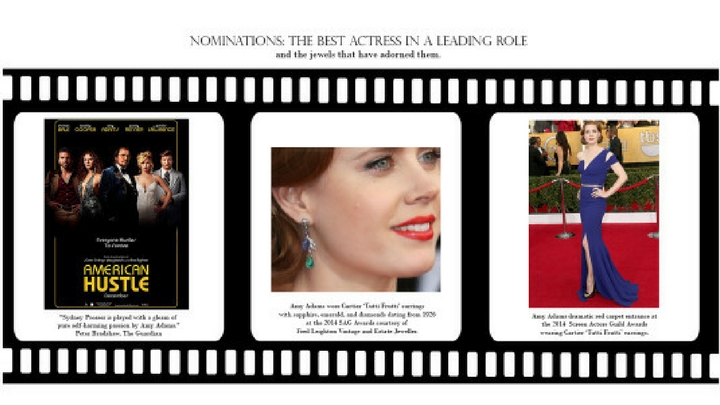 Nominated for: American Hustle
Film summary: A fictional film set in the alluring world of one of the most stunning scandals to rock our nation, American Hustle tells the story of brilliant con man Irving Rosenfeld (Christian Bale), who along with his equally cunning and seductive British partner Sydney Prosser (Amy Adams) is forced to work for a wild FBI agent Richie DiMaso (Bradley Cooper). DiMaso pushes them into a world of Jersey powerbrokers and mafia that's as dangerous as it is enchanting.
Trailer: watch the trailer here
The character: Sydney Prosser is a confidence trickster who is forced to take part in an FBI sting operation to root out corrupt politicians.
The critics said: "Sydney Prosser is played with a gleam of pure self-harming passion by Amy Adams." Peter Bradshaw, The Guardian
Jewels: chose vintage sapphire, emeraldm and diamond earrings by Cartier dating from 1926 for her dramatic red carpet entrance at teh 2014 SAG Awards.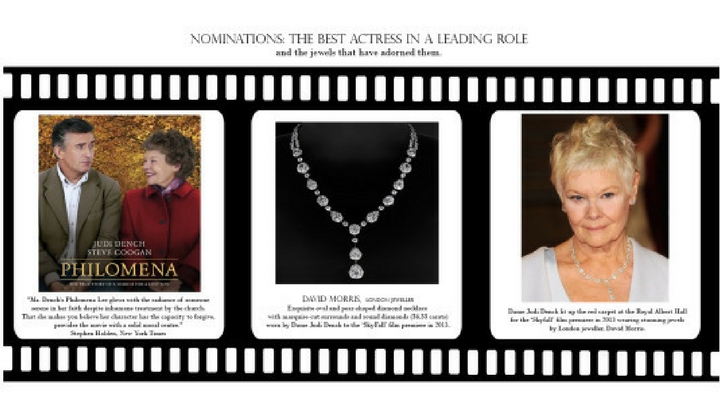 Nominated for: Philomena
Film summary: Philomena focuses on the efforts of Philomena Lee (Judi Dench), mother to a boy conceived out of wedlock – something her Irish-Catholic community didn't have the highest opinion of – and given away for adoption in the United States. In following church doctrine, she was forced to sign a contract that wouldn't allow for any sort of inquiry into the son's whereabouts. After starting a family years later in England and, for the most part, moving on with her life, Lee meets Sixsmith (Coogan), a BBC reporter with whom she decides to discover her long-lost son.
Trailer: watch the trailer here.
The character: Philomena Lee is an Irish Catholic woman who was sent to a convent when she became pregnant as a teenager in the 1950s, and saw her child given up for adoption. A meeting with a journalist in later life prompts a search to find the son she lost. Philomena Lee is still alive today.
Oscar record: Dame Judi has previously landed a total of six Academy Awards nominations. She won for her second nomination, playing Queen Elizabeth I in Shakespeare in Love. Famously, she appeared on screen for only eight minutes.
The critics said: "Ms. Dench's Philomena Lee glows with the radiance of someone serene in her faith despite inhumane treatment by the church. That she makes you believe her character has the capacity to forgive, provides the movie with a solid moral centre." Stephen Holden, New York Times
Jewels: Dame Judi Dench graced the crowds in a fine white oval and pear-shape diamond necklace with marquise-cut surrounds teamed with a delicate white diamond tennis bracelet and diamond studs with diamond micro-surround setting.