Every fashion week attracts herds of trendy and stylish people, but Couture Fashion Week in Paris brings the best of the best. Couture week is about luxury and glamour, which is seen not only on the runways, but also on the streets. The fashion elite, industry experts, bloggers, and socialites all show off their individual styles in between shows—most of whom get snapped by at least one street style photographer. In a sea of fashionable people, sometimes it's the jewelry and accessories that really matter; anyone can be fashion-forward in a designer dress, but the right mix of jewelry has character and personality, which is the true indicator of style. Photographed by Andreea Bogdan, these street style photos capture some of the biggest jewelry trends for the summer season. Statement earrings, sculptural jewelry, and eclectic bracelet mixes are seen on many of the most well-known people in the fashion world.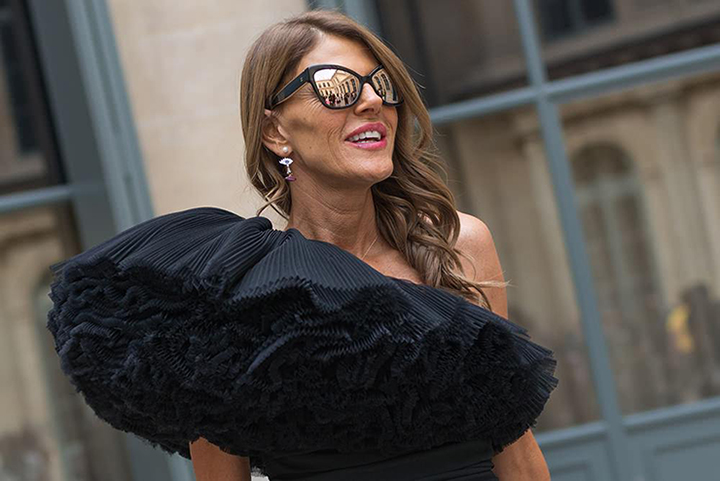 Anna Dello Russo, editor of Vogue Japan, stands out in any fashion crowd. Her avant-garde style pushes the envelope and showcases the most up-to-date and outrageous trends for the coming fashion season. Here she keeps her jewelry to a minimum to allow the ruffles on her Saint Laurent dress to take center stage. A small but daring pair of earrings—Swarovski-covered evil eyes from designer Delfina Delettrez—is all the bling she needs.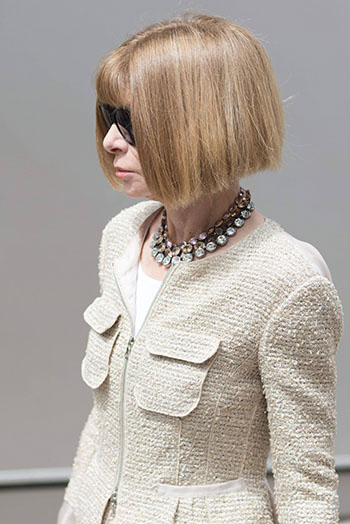 American Vogue's Anna Wintour—the titan of fashion editors—kept to her polished and reserved style at the Christian Dior show. In addition to her modern tweed skirt suit, Anna layered some of her signature necklaces—her favorite way to add jewels to her ensembles. These chunky bejeweled pieces make an appearance around her neck every fashion week. Her necklaces are authentic antique Georgian collet necklaces, made of precious jewels such as amethyst, topaz, and diamonds.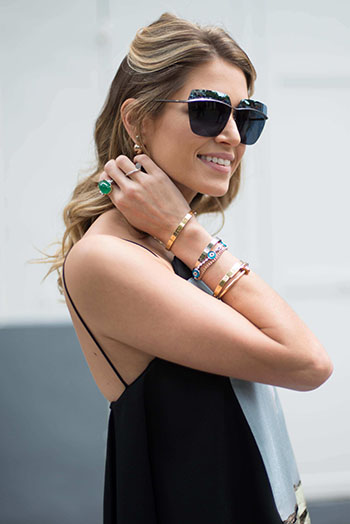 Brazilian blogger Helena Bordon showed off a trendy and chic arm party that included a mixture of classic Cartier gold LOVE bracelets, a pink gold wrap-around nail cuff, and an evil eye bracelet. She also paired a large, green stone ring with a dainty silver one to add to the eclecticism of her look.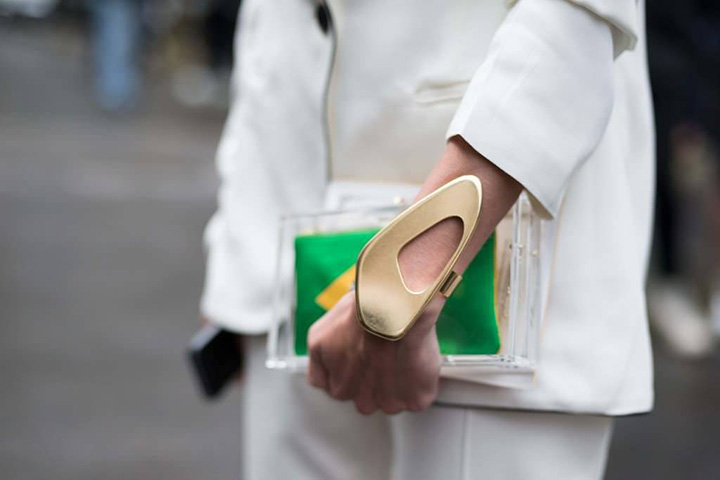 This fashion week attendee went for a minimalist, structural style. An all-white suit exudes confidence and is the perfect backdrop for showcasing accessories. A translucent plastic clutch—popular amongst the current fashion set—furthers the minimal look. A giant gold, sculptural bracelet is a true work of art and would be right at home in any modern design museum. This powerful look is one to be admired.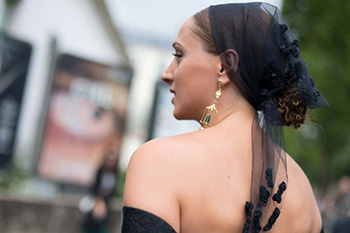 The statement earring pops up again as a major trend on the streets of couture fashion week. A sheer, black head scarf is dramatic and romantic, which is accentuated even more by a backless dress. This combination creates the perfect background for the statement earring, as there is no long hairstyle or fussy fabrics to compete with. This particular set of earrings—beautiful stones encapsulated by a dainty gold birdcage—furthers the whimsical nature of this style.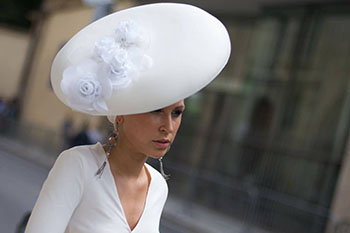 This glamorous look is simple but so chic. The lack of color makes the details pop out immediately, such as the large rose appliques on this fashion week attendee's hat. Only one piece of jewelry is needed to finish accessorizing this outfit: a statement earrnig. Large crystallized hoops in silver and gunmetal plus a chain tassel create a feeling of industrial luxury, which is a great balance to the sleek white dress and embellished hat.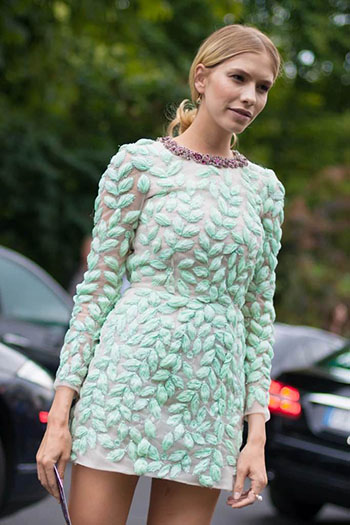 Elena Perminova—best described as a Russian socialite and sometimes-model—is a familiar face at most fashion weeks these days. To some she's most known for being married to a billionaire, but in the world of fashion she's known for her on-trend style. A fan of feathers, hats, and all things couture, she changes up her look regularly. Here, outside of the Giambattista Valli show, she wears a sheer mini dress covered with mint-colored embellishments and tiny hand-beading. Her hair is pulled back to show off a gorgeous crystal collar and a dainty pair of earrings.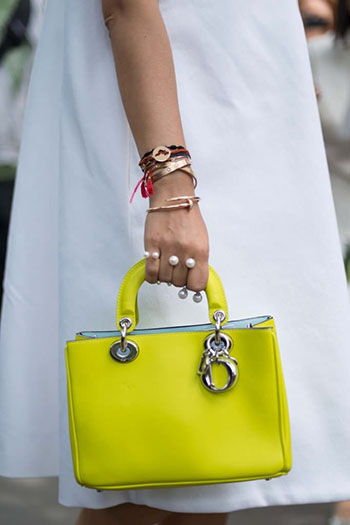 Another arm party was spotted at couture fashion week—this one even included similar Cartier bracelets. The LOVE and nail bracelets are popular among the chic-set for good reason: you really can't go wrong with a simple gold cuff. In addition to an array of bangles, pearl rings adorned this stylish lady's fingers, creating a good mix of classic and trendy styles.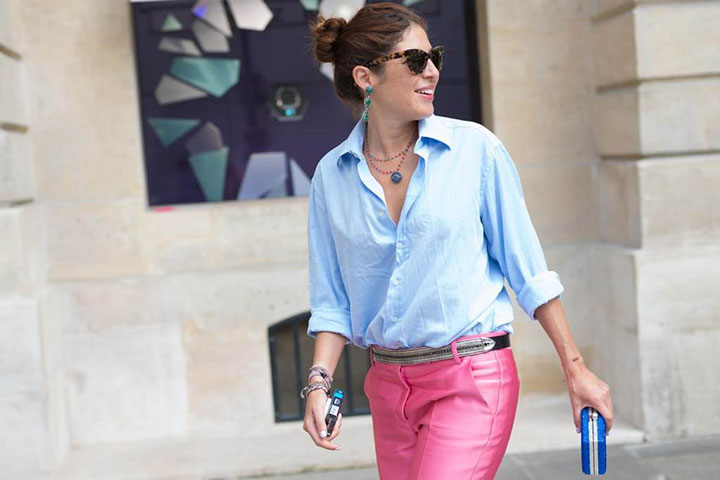 Sofia Guellaty incorporates a menwear-inspired vibe for her fashion week style. A traditional blue shirt—worn unbuttoned, with sleeves rolled up—is tucked into a red satin pant, and finished off with a beaded belt. Guellaty combined many of the season's jewelry trends, with an overall casual look. A beaded evil eye necklace is shown off against her unbuttoned shirt. A stack of mismatched bracelets works with her relaxed style. Her jewelry ensemble is completed by gorgeous jade drop earrings, the perfect color addition to her outfit.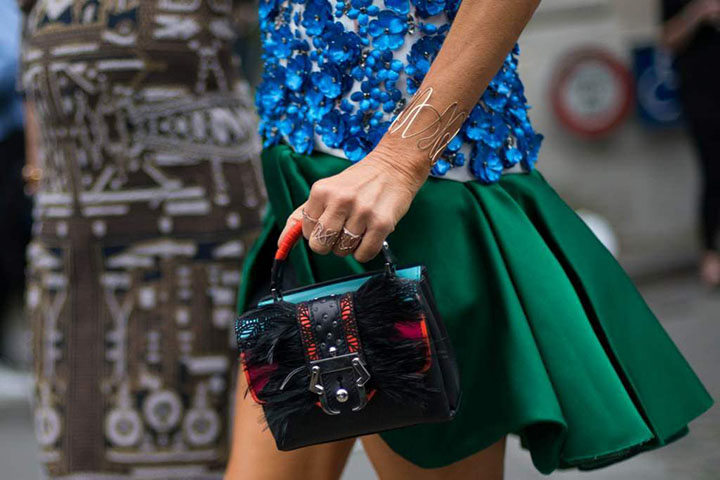 Anna Dello Russo makes another appearance in another bold outfit at couture fashion week. A jewel-toned satin mini skirt, a top covered in cobalt blue flowers, and a mini handbag with neon accents and feathers is already a show-stopping look. This outfit doesn't need a lot of jewelry and other accessories to attract attention or make a statement. Dello Russo kept the jewelry minimal, wearing a delicate wire-wrapped cuff and matching rings.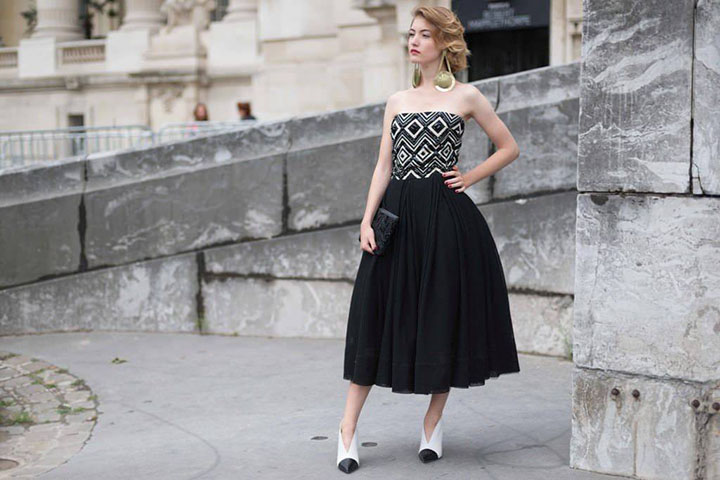 This elegant black and white dress is a big contrast to the heaps of colorful outfits that make an appearance on the streets at fashion week. A pleated midi-length skirt is demure, but the embellished top adds a spark. The simple hair and makeup are a nice framework for the main attraction: large gold pendant earrings.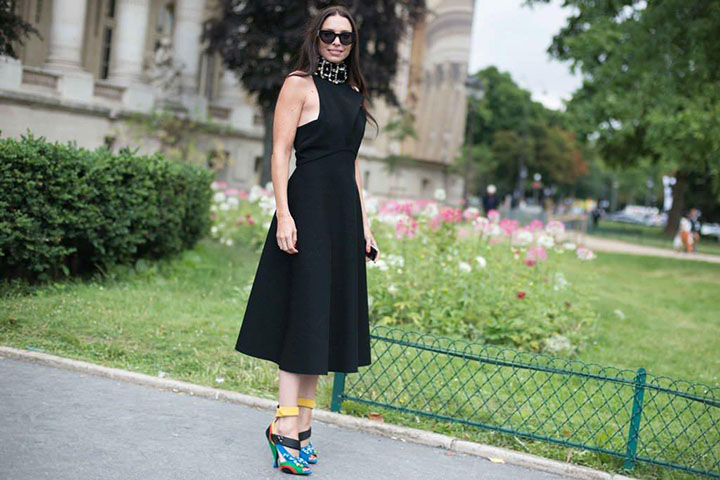 The little black dress, though classic and undeniably chic, is often overlooked on the streets of fashion week. Accessorizing is key to getting attention in all black when you're competing with feathers, neon colors, and couture dresses. Colorful, bejeweled shoes are a good start with accessorizing, but the neckpiece here is the real star. Not quite a necklace or collar, but a combination of both, this piece incorporates classic black and white fabric, and is accentuated by rhinestones. A truly royal look.