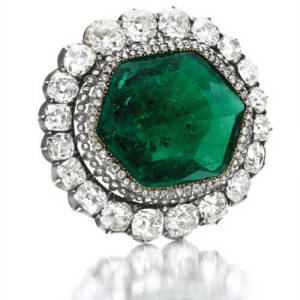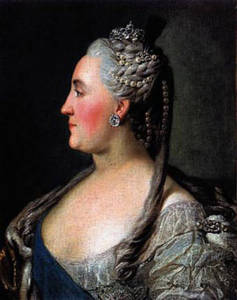 The kingpins of Christie's New York's upcoming auction, Jewels; the New York Sale to be held on April 22nd 2010 are indisputably a dynamic duo; Catherine the Great's Emerald and Diamond Brooch and the colossal Emperor Maximilian Diamond.
Three hundred lots are offered in this spectacular auction, with a big ruckus created by two historical jewels which may never be seen again after the winning bidder makes his coup. The fervor surrounds a magnificent Colombian emerald and diamond brooch owned by the 18th century Empress of Russia, who coincidentally had not one drop of Russian blood in her veins. Catherine was a tireless collector of jewelry, it is reported, because "she fully understood the power of jewels."
The other newsmaker is 19th century Austrian Emperor Maximilian's Diamond which was said to have been in his possession at his death by a firing squad in Mexico following a failed attempt to rule the country.
Abundant information about the provenance of these majestic jewels appears on Christie's website. But like all important jewels with stellar pedigrees, there's always more to learn. In an exclusive interview with Rahul Kadakia, head of jewelry at Christies New York, a few more bits about these headliners come to the fore.
Catherine the Great's Emerald Brooch: Lot 300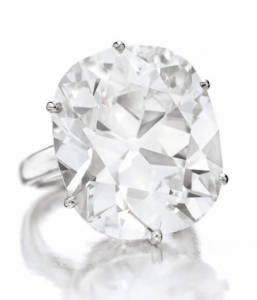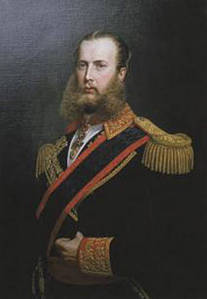 The imperial brooch belonging to the Russian monarch comes to sale for the first time in over 40 years. But its prior history is carefully recorded. Catherine gave the brooch to her future daughter in law on the occasion of her son's marriage. It stayed in the family for generations and was finally sold in the late 20th century to an American collector.
The brooch examined by the American Gemological Laboratory (AGL) was determined to be of Muso, Colombia origin, said Kadakia. Great care was exercised in examining the brooch, and owing to its age, the emerald was not dismounted for fear of damage to the ancient setting. Instead, estimation by measuring the piece determined the approximate carat range to be between 60 to 70 carats. "The exact carat weight is not critical to a piece of this importance; the brooch itself is what matters," Kadakia notes.
Personally speaking, would Kadakia prefer that this historic piece go to a museum rather than a private collector? "Of course, it is my hope that the next owner, whether a museum or individual, respects the history of this piece," allowing it to be appreciated by many people over time. One detail about its mounting may surprise some jewelry collectors. The brooch is actually made of gold which is covered (topped) with silver, a popular practice of the period, and something that jewelry anthropologists might expect when examining a white metal piece made in the 18th century.
More information (article, video) on the brooch and its use by Catherine the Great can be found on this page on Christie's website.
Emperor Maximilian Diamond: Lot 219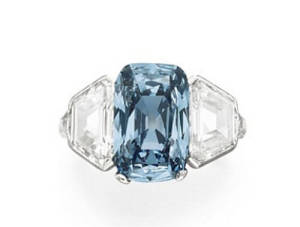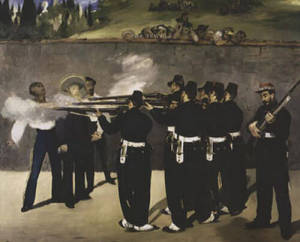 The 19th century Brazilian origin diamond, owned by Maximilian of Austria has a backstory rife with power, privilege, adventure, and abandonment. Once weighing nearly 42 carats, the enormous modified cushion diamond was secreted in a small pouch tied around the sovereign's neck when he faced execution along with his generals in a failed attempt to rule Mexico. His widow spiraled down into mental illness thereafter and the diamond was sold to pay off her expenses for the rest of her long life.
Later, an American owner exhibited this rare diamond at the 1934 Chicago World's Fair and refused to sell it during his lifetime. There are only a handful of dealers worldwide who can bid on such an important stone. London dealer Laurence Graff once owned this diamond and sold it to Imelda Marcos in the 1980s. Auction pundits speculate that he could buy it back this time around. It would not be the first time a dealer buys, sells and buys back a matchless stone like the Maximilian diamond.
In the 1990s, the diamond was re-polished to its current weight of 39.55 carats. " It was likely re-cut to improve clarity and perhaps remove small imperfections around the girdle," surmised Kadakia. Collectors the world over will be able to bid on this impressive diamond currently set in a Cartier platinum mounting. The Gemological Institute of America (GIA) graded the stone as I color and VS1 clarity.
Provenance or not, some diamonds are so distinctive that they can be absolutely identified with or without paperwork. The Hope diamond is one such famous stone. Its idiosyncratic bright red fluorescence makes it absolutely identified by an expert. The Emperor Maximilian diamond displays a 'very strong blue fluorescence' when exposed to long-wave ultraviolet (UV) lighting. A blue color occurs in other diamonds that do fluoresce, however "the particularly strong blue response is a positive identifying trait with this diamond," said Kadakia.
More information on the diamond ring (article and video) can be found on Christie's page.
Other Jewels to Watch
These important jewels could eclipse other remarkable items up for bid, unless one is cognoscenti when it comes to world-class collectibles. Is there another item in this sale Kadakia is keeping an eye on? "A fancy vivid blue round cornered rectangular cut diamond should realize over $2 million," he believes. At 3.43 carats, the stone is 'the thing' even though it is expertly mounted in a platinum ring with trapeze shaped side diamonds. Follow or bid at this unique event for a glimpse into history, April 22, 2010, Christie's New York
Items referenced in this story
Lot 300 Sale 2306 Catherine the Great Emerald and Diamond Brooch
Lot 219 Sale 2306 the Emperor Maximilian Diamond
Lot 292 Sale 2306 Fancy Vivid Blue Diamond