Table of Contents
Diamonds Consumer Information
As provided and validated by various gemmological organizations, laboratories and the "World Jewelry Confederation CIBJO
Color
Diamonds are found in almost every colour of the rainbow, but white-coloured diamonds remain the most popular.
There are more than 20 subtle grades of colour, identified in alphabetical order from D-Z.
Variations are so slight that colours must be graded by an expert under controlled lighting conditions and compared against a master set for accuracy.
Those at the upper end of the scale will be more expensive, as they are rarer. However, they are difficult to discern with the naked eye.
The D-Z colour grades only apply to yellow and brown-tinged stones. If these colours are intense (Z+) in a diamond, they are referred to as "fancy-coloured". For other colours such as blue, pink, red, green, etc., the colour does not need to be intense to be considered fancy as these colours are rare and highly prized
For fancy colour diamonds, the market value is determined almost exclusively by the intensity of the colour, which can in some diamonds significantly outweigh the effects of lower clarity and of a poor make
Clarity
Naturally-occurring features – known as inclusions – provide a special fingerprint within the stone. Usually invisible to the naked eye, these tiny marks are minerals or fractures which appeared while the diamonds were forming in the earth
The number, type, colour, size and position of these inclusions can affect the value of a diamond
Many can only be seen by a 10-power magnification loupe or stronger
Flawless diamonds are rarer and thus more expensive. Small inclusions do not affect the beauty of brilliance of the diamond however.
Cut
Cut is the shape and cutting style of a diamond.
The cut, polish and proportions of a diamond will determine its appearance.
The shape of a diamond is a matter of personal taste, with the round brilliant cut the most popular. Other shapes are the asscher, cushion, emerald, heart, pear, marquise, oval, princess and trilliant.
Carat
Carat is often mistakenly used to refer to a diamond's size, but it is actually a measure of weight. One carat (equivalent to 200 milligrams) can be divided into 100 "points". A 0.75 carat diamond may also be described as a 75-point or % carat diamond
Larger diamonds are found less frequently in nature, so they can command a significantly higher price. For instance, a one carat diamond will cost more than two Vz carat diamonds of equal colour, clarity and cut
There are specific "cut of weights" that command a higher price: For instance a 1 carat diamond will command a relatively higher price than a 0.95 carat diamond if all else is equal
Care
At least 13 factors affect diamond value, including fluorescence, table percentage, symmetry and other crucial details.
The most important factors when determining the quality of a diamond are known as the 4Cs.These are the diamond's carat weight, its cut, its colour and its clarity.
The key thing to note is that no one C is more significant than another. A particular combination of the 4 Cs can be chosen to suit a particular budget, occasion, design or jewellery piece.
Treatment
Color: stone can be bombarded (i.e. irradiated) by either atomic or subatomic particles; these particles damage the diamond's internal structure, which may change the color. The longer the bombardment, the more intense the color
Color: The most recent and sophisticated development in diamond colour improvement is to treat brownish coloured diamonds to improve their colour. The colour change is to either colourless or fancy yellow/green depending on the starting material.

DIAMONDS: Investing in Colored Diamonds Pays Dividends?
Create: 11/05/2009
Last reviewed: 18/09/2012
Colored diamonds collecting
Recent sales, and not only those at the famous auction houses, saw an influx of international buyers from dozens of countries bidding on colored diamonds around the $ 100,000 mark and above.
Reasons:
Beauty (no explanation needed)
Rarity: "for every 100,000 carats of white or colorless diamonds mined, just one carat of colored diamonds are found. Therefore, these gems tend to rise more quickly in value. Some jewelry experts claim that premium-quality colored diamonds double in value roughly every three to five years." says Artfact.com
Recent auctions such as that of an 5.44 ct Yellow Diamond wedding ring by a Chicago family created a true bidding war between a dozen buyers from Bulgaria, New York and Los Angeles.
Read the full story in Forbes

Rare blue diamond breaks world record in HK sale
Create: 25/10/2007
Last reviewed: 25/10/2007
HONG KONG (Reuters) - One of the rarest gems in the world, a flawless blue diamond, has sold for US$7.98 million (3.91 million pounds) at a Sotheby's auction in Hong Kong, making it the most expensive gemstone in the world, per carat, sold at auction.
After intense bidding, the 6.04 carat, internally flawless blue diamond fetched $HK61.9 million (3.91 million pounds), or US$1.32 million per carat. The price smashed a 20-year-old record held by the "Hancock Red" -- a red diamond, which fetched US$926,000 per carat at the time, Sotheby's said.
Sotheby's said the buyer was "Moussaieff Jewellers" in London which has a reputation for acquiring extremely rare and costly gemstones. The seller was a private Asian collector.
Blue diamonds have long captivated the rich and powerful -- shimmering with a certain dark mystique. The famous "Hope Diamond", a 45.52 carat grey-blue beauty, was passed down through the ages by King Louis XIV of France, Marie Antoinette and American heiress Evalyn Walsh McClean among others. It now rests in the Smithsonian Institute in Washington D.C.
The Sultan of Brunei reportedly bought another massive "blue" which surfaced briefly in the 1980s.
While not a large stone, the Sotheby's diamond has an esteemed cut and "fancy vivid blue" hue, factors which contributed to its blockbuster price -- roughly 10 times the per-carat price of regular white diamonds.
The blue hue is a result of trace amounts of boron in the stone's crystal structure.
Other coloured diamonds with pink and red hues can be mined in multiple locations across the globe including Brazil, India and Australia, but "blues" are mostly found at just one site on earth -- the Premier Mine in South Africa.

61 Carat Yellow Diamond found in South Africa
Create: 15/05/2008
Last reviewed: 22/10/2012
Commenting on the discovery, Chief Executive Officer of Lonrho Mining, Charles Mostert stated:
"This diamond is of extremely high quality and is expected to achieve a very high value. We are confident that the recently completed operational review at the Schmidtsdrift mine will continue to have a positive effect and hopefully yield further diamonds of this quality."
Australian based diamond exploration and development company Lonrho Mining Limited (ASX: LOM) ("Lonrho Mining" or the "Company"), today announced that it had discovered an exceptional 61.30 carat stone at its Schmidtsdrift Mine located in the Republic of South Africa.
The diamond is a fancy yellow perfect octahedron and is expected to yield a high value (see Figure1).  The Schmidtsdrift mine – owned by Lonrho Mining (80%) and the Schmidtsdrift Communal Property Association (20%) – comprises six contiguous farms along the western bank of the Vaal River, with a combined area of 320km².
Since the Company commenced operations in April 2006 up to 30 April 2008, the Schmidtsdrift mine has produced 16,395 carats of diamonds from 3,255,969 tonnes at an average grade of 0.5 carats per hundred tons. The production included 328 stones in excess of 5 carats in size, including a rare 235 carat stone, two 66 carat stones and 25 stones between 15 and 50 carats in size.
Other Famous Yellow Diamonds
The Austrian Yellow Diamond (139.5 carats): an Indian Diamond, first mentioned by Tavernier who saw it in Florence in 1642.
Edwin Streeter also writes about the Austrian Yellow Diamond.
The Dresden Vault stores 4 famous Dresden Yellow Diamonds as well as the world's largest green Diamond (the "Dresden Green Diamond"). Although you should make reservations months in advance, you can visit the Dresden Vault with its enormous treasures. More information can be found on "Neues Grünes Gewölbe".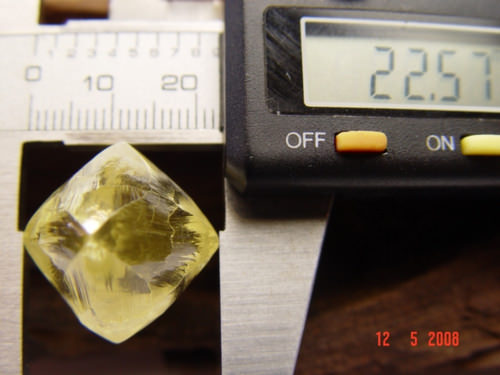 Sotheby's, NY, 09-20-2012: 18 Karat Gold, Platinum and Diamond Ring, Mounted by Schlumberger for Tiffany & Co.
Create: 17/09/2012
Last reviewed: 17/09/2012
By Christine Webb
Estimate: 22,000 – 28,000 USD
Centered by a square emerald-cut diamond weighing 3.92 carats, accented by numerous round diamonds weighing approximately .50 carat, size 6½, signed Tiffany & Co., Schlumberger Mtg. With signed box.
I love Schlumberger. I believe Jean Schlumberger was Tiffany's finest designer. His designs continue to be produced and sold today. Diamonds are always in demand, but this ring is special because of the Ascher cut diamond that is E in color and SI-1 in clarity (GIA cert). The mounting is identifiably Schlumberger with the "X" designin a ribbon-like motif that many designers have copied.
It is a classic design but unusual enough to make it special. At almost 4cts with a color grade of E, it surely is gorgeous and sophisticated. Schlumberger was known for his whimsical interpretations of natural forms, many times inspired by the sea (see item 43) as well as animals and flowers. His pieces are truly art jewels and many were one-of-a-kind. Schlumberger's jewels were collected by the rich and famous: the Duchess of Windsor, Greta Garbo, Gloria Vanderbilt, and Elizabeth Taylor, to name a few.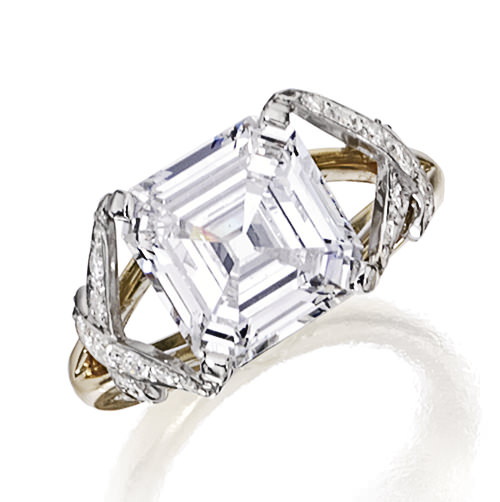 Diamonds References in Antique Gemological Books
Famous Diamonds (Koh-i-Noor, Hope Diamond, Cullinan Diamond etc.)
Famous Diamonds Review Works:
The Classic: Edwin Streeters's Great (Famous) Diamonds of the World
Mrs. Orpen wrote a standard work with additional Stories about Famous Diamonds
Go here for short summaries on "Famous Diamonds" (see table of contents of this book)
Koh-I-Noor, Hope Blue Diamond:
Famous French traveller (who brought back the Hope Diamond) Tavernier wrote about the "Koh-I-Noor"
Famous Indian Moghul Babur writes about the Great Diamond: the "Koh-i-Noor"
Diamond References before 1800
Nicols on Diamonds (1652). (Sinkankas wrote "landmark gemology"; "attempt to scheme of classification", "large section on Diamonds" , "gem enhancements which are still pertinent today".
Samuel Chapuzeau on Diamonds (1667) He reduces the number of "hear-say" localities of Diamonds to 5 in total in the "East Indies" including the famous mines of Golkonda.
Robert Boyle's Experiments on Diamonds (1664)
Theophrastus on diamonds (as gemstone and as carving tool) in "History of Stones" (315 BC)
Georg Agricola (considered the "father of Mineralogy") wrote "De Natura Fosslium, diamond chapter (1655)
Al-Biruni (973 – 1048) one of Islam's foremost scientists on Diamonds
Diamonds Mines Borneo Indonesia
Edwin Streeter on Borneo Diamond Mines
Tavernier travelled to Borneo and writes about Diamond Mines
Diamond Lore and Superstition
In the 1500's it was believed in India that Diamond dust was a poison (and read how it was proven not to be !) whereas in Europe it was believed Diamonds protected against the plague (and read the hilarious reasons why !)

FAMOUS DIAMONDS
Famous Diamonds Overview works
Famous Diamonds Review Works:
The Classic: Edwin Streeters's Great (Famous) Diamonds of the World
Mrs. Orpen wrote a standard work with additional Stories about Famous Diamonds
Go here for short summaries on "Famous Diamonds" (see table of contents of this book)
Koh-I-Noor:
Several writers have a chapter on the "Koh-i-Noor": Short Overview, Streeter and Orpen
Famous French traveller (who brought back the Hope Diamond) Tavernier wrote about the "Koh-I-Noor"
Famous Indian Moghul Babur writes about the Great Diamond: the "Koh-i-Noor"
Hope Diamond
Hope Diamond: Streeter who supposedly bought part of the original Tavernier Blue diamond, that together with another stone in Geneva would and the Hope diamond would add up to the original blue diamond that was sold to Louis IX by Tavernier.
Also Orpen and Hershey 's short factsheet
Kunz on the sale of the Hope to Frankel
List of Famous Diamonds
Braganza Diamond
Nizam Diamond
Matan Diamond
Great Mogul Diamond
Stewart Diamond
Star of the South Diamond
Du Toit I Diamond
Great Table Diamond
Regent Diamond
Jagersfontijn Diamond
Orlof Diamond
Cullinan Diamond
When was the Cullinan Diamond found ? How was it cut ? Read the whole Cullinan Diamond history here.
Photo Uncut Cullinan
Photo 9 largest cut stones