Table of Contents
Sapphire Consumer Information
As provided and validated by various gemmological organizations, laboratories and the "World Jewelry Confederation CIBJO
Color
A corundum mineral is called ruby or sapphire, depending on the metallic oxides present which determine the colour. Sapphires come in every colour except red. The red corundum is a ruby.
The most prized blue colour is also known by a flower and is called "cornflower"
The rarest sapphires, "padparadschas" (named after the lotus flower), are orange-pink or pinkish-orange in colour
"Fancy" sapphires" are any "not blue" sapphires
Clarity
Inclusions in sapphire may be composed of fine rutile needles (called silk), which may intersect at 60-degree angles. In such cases, when the gem is cut as a cabochon, a star effect may occur
Inclusions can cause some gems to have milky colouration, this becomes a detriment if it also causes a perceived loss of blue
In top Kashmir sapphires the haziness from inclusions (called sleepiness) acts to diffuse light and colour resulting in even blue coloration.
Cut
Sapphires are mostly cut in traditional pear, round, oval, cushion and emerald cut outlines.
They are sometimes engraved or carved today, though sapphires were sometimes engraved during India's Mughal Era
Treatment
Color: Consider all sapphires heat treated unless specifically guaranteed otherwise.
Color:  Irradiation can create orange or yellow sapphires out of colorless stones. Color does not stay.
Color: Additional chemical elements can be "diffused" in the stone to enhance/change colors
Clarity: fissures can be filled with glass. This occurs more frequently in rubies than sapphires
Care
Sapphires are extremely durable due to their hardness and exceptional toughness
As with most gemstones, a soft moistened cloth, or a soft bristle toothbrush may be used to clean the gem.

Ancient Sapphire ring of Anglo-Saxon Royalty
Create: 08/09/2011
Last reviewed: 27/09/2012
Sapphire ring 'belonged to Anglo-Saxon or Viking royalty'
By David Keys, Archaeology Correspondent
Friday, 29 July 2011
A unique gold and sapphire finger ring, found by a metal detectorist and just purchased by the Yorkshire Museum, almost certainly belonged to Anglo-Saxon or Viking royalty, very senior clergy or a leading member of the Anglo-Saxon aristocracy, say historians.
Of very great historical importance, it is the only Anglo-Saxon era sapphire ever found in the ground in Britain. The only other sapphire from the period is the one that the Queen wears in her Imperial State Crown, used at the opening of Parliament. Known as St. Edward's sapphire, this latter gem was once part of King Edward the Confessor's finger ring and is now the oldest gem in the British crown jewels.
The association of sapphires with high status – demonstrated by St. Edward's gem – suggests that the sapphire ring, just purchased by the Yorkshire Museum, is of very substantial historical significance. It was found in a field some six miles to the south of York by a local metal detectorist, Michael Greenhorn, a railway technician, was subsequently declared treasure and has now been bought by the museum for £35,000.
It's very likely that the ring belonged originally to an Anglo-Saxon Archbishop of York, one of the Earls of Northumbria or a senior member of one of Anglo-Saxon England's royal families.
But narrowing down the field may not be an impossibility. For the Yorkshire Museum is to launch a multi-disciplinary investigation to unlock the secrets of their newly acquired and unique piece of treasure.
Although the ring probably dates from the early 10th to the mid 11th century, it could be much earlier, conceivably even from the 7th century. So the museum's first task will be to narrow down the age range by looking for stylistic parallels in other pieces of Anglo-Saxon and other first millennium AD jewellery.
Secondly they want to better understand the sophisticated technology used to create the ring – especially the gold work. The precious metal alloy is of a very high standard – 90% gold, 8% silver and 2% copper.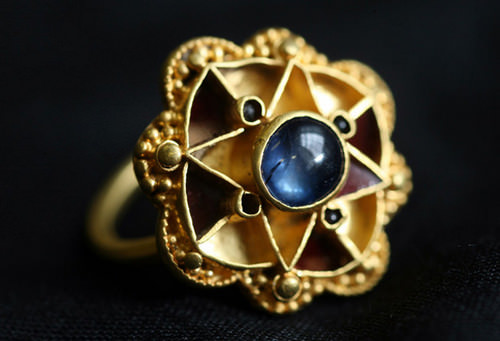 The museum, in York, also plans to track down the ultimate origin of the sapphire itself. It's possible that it came originally from India or Sri Lanka and a special scanning electron microscopy examination of the gem will almost certainly be carried out to identify trace elements and ascertain its geological background.
This may also help to reconstruct its pre-Anglo-Saxon history. Is it likely to have been imported into England or Europe from thousands of miles away in Anglo-Saxon times, or is it more likely that it was imported in Roman times and re-used in various different high status roles for hundreds of years before it was lost south of York a millennium or more ago.
Microscopic examination of ware marks on the ring may also shed light on its history – as might a detailed historical examination of the area around where it was found .
The Yorkshire ring, weighing 10.2 grams, is 25.5 millimetres in diameter, and is adorned with a six millimetre deep-blue sapphire and pieces of red glass, all set into the gold.
In medieval times, sapphires were seen as magical objects – capable of protecting kings and other members of the ruling elite against assassination. They were seen as particularly powerful against death by poisoning! In the medieval mind, the ability of a sapphire to combat poison could even be tested – by swinging the gem above a spider. If the creature died, then the sapphire was seen as being in good working order.
Sapphires were also regarded as high status health aids (able to cure a range of complaints) – and as a guarantee of morality, capable of reducing human lust and impurity of thought.

Sotheby's, NY, 09-20-2012: Platinum, Sapphire and Diamond Ring
Create: 14/09/2012
Last reviewed: 17/09/2012
By Christine Webb
PROPERTY OF A PHILADELPHIA ESTATE
Platinum, Sapphire and Diamond Ring
Estimate: 350,000 - 450,000 USD Centered by a cushion-shaped sapphire weighing 13.22 carats, flanked by two triangular diamonds weighing approximately 1.80 carats, size 2¼.
This sapphire has the pedigree! Kashmir origin with no heat treatment (both Gubelin and AGL reports). Just as connoisseurs treasure Columbian emeralds and Burmese rubies, Kashmir sapphires are extremely rare and highly sought after and collected. Sapphires from Sri Lank and Burma historically were considered the best, however, from the 1880s to the early 1920s a small area in the Indian state of Kashmir produced gems that were a medium rich velvety blue color, described as cornflower blue.
Then and today, Kashmir sapphires are regarded as the finest blue sapphires. An untreated natural sapphire is rare and highly collectable. Then add Kashmir as the origin - it should command top dollar and retain its value. This of course depends on the color and how the sapphire looks in person - very difficult to judge from an image.
Bid on the ring at Sotheby's here.

Sapphire References in Antique Gemological Books