Coveted throughout the centuries by kings and sultans of the Byzantine and Ottoman Empires, the Anatolian mountains hold a secret gemologists believe has been kept for over 100 million years, the csarite.  To give you an idea of it's rarity for every 1 csarite discovered 10,000 diamonds are cut and polished each year.  Adding yet even more appeal, csarite also possesses some of the most unique color-change characteristics, a phenomenon that occurs in less than one percent of known gemstones.
Color-Changing in Different Light
However, unlike most other color-changing gemstones in the world, csarite has the ability to display different tones of colors at the same time, which is an extraordinarily rare anomaly in the gem world. Its range of colors mirrors the splendor of the Turkish countryside by exuding gorgeous shades of greens, peaches, champagnes, and raspberries. Every stone exhibits its magical trademark color-change, therefore each one is truly unique.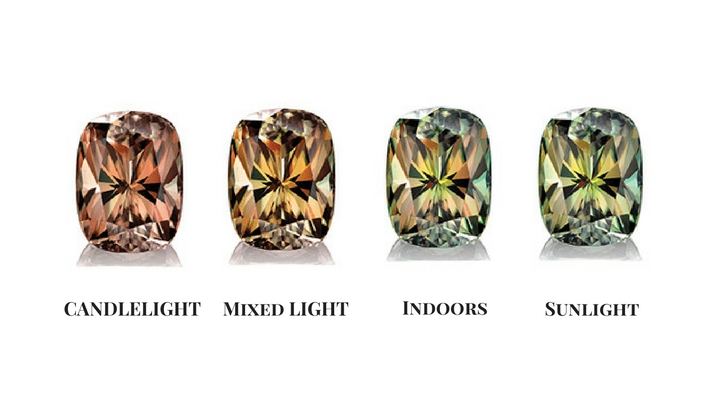 Outdoors and in sunshine, or under fluorescent lights, csarite has a kiwi green color, with flashes of yellow; it reveals a champagne color under regular indoor lights; and when exposed to subdued lighting, such as that provided by candles, csarite has a pink or raspberry color.  The larger the gemstone, the more dazzling the color change effect will be.
The Snowflake Cut
Particularly exciting for this festive holiday season is the Snowflake Cut created by Ralph Wobito.  It's one of the most unique cuts we have seen for the csarite.  The story of this fascinating cut began whilst Wobito was in the processes of  developing new designs in the cold winter of 1996.  At first he started with basic hexagon shape, yet paused to contemplate his next steps and happened to glance out the window at the gently falling snow. A few meticulous hours latter, the Snowflake cut was born.  It was eventually patented in 2005 and is suitable for almost all varieties of gemstone, including Diamonds.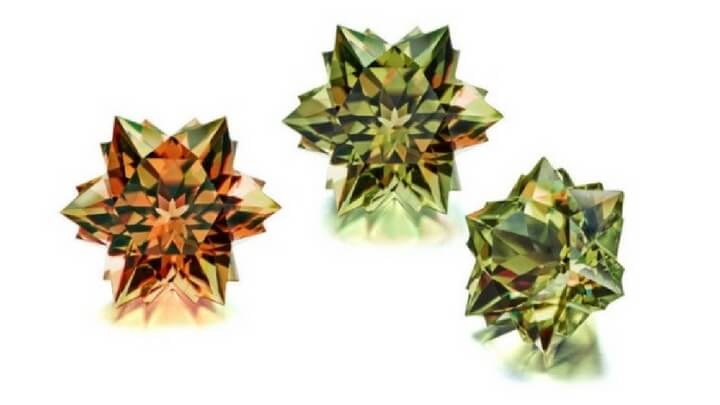 Traditional holiday colors of green and red along with the snowflake cut won over our hearts this holiday season.  Adding csarite to your collection definitely elevates one from hobbist to connoisseur!