Table of Contents
Antique Jewelry

Collecting Art Deco Jewelry. Investment advice
Create: 06/09/2009
Last reviewed: 29/10/2012
Art deco: Investment opportunity?
Often underestimated Art-Deco jewelry has made a come back amongst serious collectors and even investors. Says David Bennett, the head of Sotheby's jewelry department for Europe and the Middle East: "Art Deco was everything jewelry was meant to be-beautiful, glamorous, and romantic."
Attracting Collectors:
The current interest in Art Deco jewelry only dates from the late 1970's. There was a time when Art Deco jewelry was actually worth less than the stones it was made off, thus leading to many pieces being taken apart to sell or use the stones separately.
There are several reasons why this situation has changed so dramatically, and is expected to stay that way:
Reasons for Art-Deco Boom:
Timeless: devotees vary from the Duchess of Windsor to Sarah Jessica Parker. "It goes with everything, and it's still absolutely chic." Says David Bennett, the head of Sotheby's jewelry department for Europe and the Middle East.
Limited Availability: where designers sell thousands of jewelry pieces per year nowadays it used to be a few dozen in the 1920's.
Quality: These pieces are the product of a time many consider the pinnacle of jewelry craftsmanship. "You'll never see anything like it again," declares Esmerian. "Back then, you had to apprentice under a master jeweler. It is not as it was in the 1920s and '30s. Today, people want coffee breaks."
Prices can hit $100,000 plus, but the starter collector can get in for $1,500. Truly exceptional pieces-made with precious stones and crafted by top designers-can go for much higher. Besides quality of craftsmanship and the strength of the design other key factors in establishing value are a dog's head stamped inside a piece, employed by French designers only, and for all, the visibility of scant metal on the underside of bracelets, necklaces and earrings. The less metal used, the more skillful the artisan, and the more valuable the piece. Pieces made with jade are especially valuable today too, due to interest from Asian collectors.
Art Deco Jewelry: the beginning
Art Deco emerged in an era of economic slumps and depressions, social strife, hunger marches and the political battle between Communism and Fascism. It was against this troubled and traumatic background that Art Deco forged it's own identity.
Art Deco designing was at its height during the 1925 world's fair in Paris, called the Exposition Internationale des Arts Decoratifs et Industriels Modernes, an event set up by the French to showcase what they viewed as their supremacy in creating luxury goods and avante-garde position in industrial design. Everything from jewelry to small personal items, such as vanity sets and decorative boxes, to furniture was on display there. It was later that the period became known as Art Deco, shortened from the words arts decoratifs in the fair's name.
Art Deco was essentially an eclectic style; it's artists and designers plundering a diversity of historic sources. Simultaneously, however, it emphasised modernity, employing the latest industrial materials and techniques. It was this fusion of history and modernity that gave Art Deco its unique character.
Art Deco is characterized by sleek, streamlined forms; geometric patterns; and experiments with industrial materials such as metals, plastics, and glass.
Art Deco Jewelry: fashion
Women celebrated their postwar success by piling on the jewelry. Evening fashion of fluid, low belted, sleeveless tunics, was perfect for showcasing multiple Art Deco bracelets. Platinum and diamonds were again in vogue but the Art Deco jewelry style was more geometric and linear than the earlier Edwardian "belle époque" jewels. Jewelry sales in the 1920's were stellar. This reflected not only the affluence of the general public but the trend for unbridled consumerism.
Endless variations of Art Deco bracelets were designed and referred to as plaque, flexible link, box, strap, band or straight-line. The straight-line bracelet often featured the new square cut diamonds developed in Paris, aptly termed "French-cut" diamonds. Art Deco bracelets were frequently accented with natural and synthetic rubies and sapphires. The "emerald" accents often seen in Art Deco jewels were, more often than not, actually green glass. Some examples of natural emerald accents are seen, but they are rare.
Art Deco Jewelry: Designers and Designs
Art Deco Jewelry in Paris
The first designers to contribute to the creation of art deco were French fashion designer Paul Poiret and French jewelry and glass designer René Lalique. Echoing the experimental glass of American designer Louis Comfort Tiffany, Lalique's glass designs of the 1910s featured continuous, flowing lines and subtle, unusual colours. The colorful and original designs created by artists Henri Matisse and Pablo Picasso for the Ballets Russes dance company in Paris were an additional influence on the emerging art deco style. Art deco designers also admired and borrowed from ancient art that was being unearthed by archaeologists at the time, especially the treasures of the ancient Egyptian king Tutankhamun (exhibited in Paris in 1922) and Maya and other Mesoamerican art.
Gérard Sandoz (b. 1902) came from a family of jewelers and began to design starkly geometric pieces for the Sandoz firm while he was still a teenager. His output is significant within the realms of the Art Deco period. Another gifted goldsmith was Jean Després (1889 - 1980), whose industrial-design training in the First World War is reflected in his strong pieces. His machine age aesthetic may be interpreted as unwieldy and masculine, but it was well suited to the Jazz Age, to the increasingly strong image of the liberated and androgynous woman. Després' modernist, industrial derived pieces are some of the most desirable for collectors of vintage jewelry today.
Art Deco jewelry elsewhere
Art Deco Jewelry motifs are characterized by geometric designs, diverse combinations of color and abstract patterns. In 1922, the opening of Tutankhamen's Tomb in Egypt inspired another Egyptian revival. Influences from cubism as well as African, Oriental, Persian/Islamic, Jugendstil and Native American designs were common in Art Deco Jewelry. Art Deco style in other European countries was largely derivative, like the Italian G. Ravasco's diamond studdied geometric creations or Theodor Fahmer's later jewels. Some London jewellers, like Asprey and Mappin & Webb, produced Art Deco Style confections, but these are largely unsigned so the designers are unknown. Some British design jewellers however, like Sybil Dunlop, Harold Stabler and H.G. Murphy, known primarily for their Arts and Crafts pieces produced decidedly moderne jewels
Geoge Jensen's firm in Copenhagen continued to produce silver jewelry in the Art Deco era adding sharp geometric forms to it's repertoire of stylised motifs, these in turn were imitated by a host of European jewellers.
The indigenous Mexican silver industry was highlighted in the Art Decoperiod by the talents of an American architect designer teacher, William Spratling, who settled in Taxco in 1929. He opened a shop dealing in traditional crafts and also started a school where he trained natives to work with silver and other substances. A whole community sprang up in Taxco around Spratling and his wife.
Several significant jewelry manufacturers like New York's Oscar Heyman & Brothers, the Bonner Manufacturing Company and Walter P. McTeigue, Inc, provided Saks Fifth Avenue and other exclusive department stores with their creations. Even the mail order Sears, Roebuck catalogue featured moderne jewellery.
The motifs of Art Deco jewellery range from the sublime to the ridiculous: from stunning geometric configurations of paste to silly cherries dangling from a wooden bar. The former has borrowed its subject from deluxe jewellery of the time, but the latter, a joke, has come about more or less on its own. Animals and people inhabit the world of 1920s and 30s costume jewelry, from gentle playful fawns and playful plastic Scotty dogs to paste, turquoise and Marchasite Chinamen and elegant, gilt metal cloche hatted vamps. Flowers in every possible colour, combinations and variety sprouted on gilt metal or silver brooches and pendants, their paste petals glittering shamelessly.
Some references: Lang Antiques, Richard Whitehouse

Art Nouveau Jewelry
Create: 06/09/2009
Last reviewed: 18/09/2012
Art Nouveau Jewelry: Style and Influences
Art Nouveau jewelry created in France, Belgium, and other parts of Europe by a select group of avant-garde artists at the close of the nineteenth century was revolutionary. It reinvigorated what had become a formulaic naturalism with new forms drawn from outside sources, including the arts and crafts movement in Great Britain and the arts of Japan. The jewelry was also remarkable in that it redefined notions of preciousness. Platinum and diamonds, the preferred materials for high-style jewelry, were abandoned in favor of gold, enamel, colored gemstones, horn, and glass.
One of the major influences on Art Nouveau was the Symbolist Movement, which began in the 1880s. Imagery adopted by this group combined religious mysticism with eroticism. Art Nouveau combined inspiration from this source with some of the elements of Arts and Crafts philosophy; it is also highly varied and asymmetrical which reflected the political unease of the period. Art Nouveau, traces of which are discernible in the art of the Pre-Raphaelites and even in that of the 18th-century visionary poet William Blake.
Art Nouveau concentrated on the treatment of surface decoration. It is also characterised by long curving lines based on sinuous plant forms, and an element of fantasy. It was primarily a decorative style and as such was used particularly effectively in metalwork, jewellery, and glassware, and in book illustration, where the influence of Japanese prints is often evident. Another ubiquitous presence is the femme fatale - the seductive nymph of Pre-Raphaelite paintings.
Art Nouveau Jewelry: Leading Designers
Two of the leading exponents of Art Nouveau were Louis Comfort Tiffany, whose shimmering Favrile-glass vases and stained-glass lampshades were fantasies of iridescence, and René Lalique (1860-1945) who was a French jeweller and glassmaker. He became a designer of jewellery for firms such as Boucheron, Vever, and Cartier, Breaking free from historical styles; he based his designs on plant, bird, and insect forms. Emphasizing design rather than the costliness of material, he used enamel, ivory, glass, and horn as often as semiprecious stones and gems. His work had a profound effect throughout Europe.
Art Nouveau Jewelry: Techniques
Extensive Use of Enameling
Along with the creative energy came a mastery of technique in casting and carving of gold as well as the extensive use of enameling as never seen before. Probably the single most important technique used by Art Nouveau designers was enameling. The type of enameling used most often was known as Plique a'jour. Plique a'jour is defined as enameling that is transparent with no backing. The effect most often achieved by Plique a'jour enameling is likened to that of stained glass. The technique of applying this type of enameling was extremely difficult and very popular because it exemplified the jeweler's skill and artistry.
This effect gave Art Nouveau jewelry a distinctive appearance much like a three dimensional painting. Other types of enameling that were also popular were basse-taille and guilloche enameling, techniques that required engraving the metal or raising a design, then fusing a thin layer of transparent enamel over the work. These and the techniques of Cloisonné' Chamieve' were made popular by Faberge in Russia around the turn of the century. Many times a craftsman would combine the use of different methods of enameling on the same piece.

Marie Antoinette's pearls up for auction
Create: 24/10/2007
Last reviewed: 24/09/2012
UPDATE: Marie-Antoinette's Pearls did not sell ! Read the original article below.
By Mike Collett-White
LONDON (Reuters) - A set of pearls once belonging to Marie Antoinette and taken to Britain by a friend for safekeeping will go on sale in December, and are expected to fetch up to $800,000.
Now part of a diamond, ruby and pearl necklace, France's last queen gave a bag of pearls and diamonds to Lady Sutherland, the British ambassador's wife, before she fled revolutionary France in 1792, a year before Marie Antoinette's death.
"Lady Sutherland was wife of the ambassador and friends with the queen, and they had children of the same age," said Raymond Sancroft-Baker, senior director of Christie's jewelry in London.
"When you are in a dire situation, there are not many people you can trust and the key was to give the jewels to someone with diplomatic immunity," he told Reuters.
Marie Antoinette, legendary for her extravagance, did not know her fate at the time, he said, and would have hoped to be reunited with her treasures one day.
"Hope springs eternal," added Sancroft-Baker.
According to Christie's, Sutherland arranged for clothes and linen to be sent to the queen while she was in prison.
"This was reportedly the last gesture of kindness shown to the doomed queen," the auctioneer said in a statement.
Marie Antoinette was executed by guillotine in October 1793.
The diamonds were made into a necklace, while the pearls were mounted later for the occasion of the marriage of Sutherland's grandson in 1849.
Christie's did not specify which of Sutherland's descendants was selling the necklace.
"The owner said it just sits in the bank the whole time, and there comes a time for everything," Sancroft-Baker said.
He hoped the pearls, which have never been offered at auction before and remained in the same family for over 200 years, would be made available for the public to see.
"The Louvre might be interested, for example," he said, adding that the story behind the necklace made it one of the most important sales he had overseen at Christie's.11
"It's right up there in the top 10 we've ever sold, because its provenance is rock solid, as far as we can be aware. There are documents to go with it and contemporary supporting evidence."
The necklace will go under the hammer at the Magnificent Jewelry sale in London on December 12, and is expected to make between 350,000 and 400,000 pounds ($700-800,000).

Rare Faberge egg sold for record price in London
Create: 24/10/2007
Last reviewed: 07/05/2013
by Lucie Godeau:
LONDON (AFP) - A recently-discovered rare Faberge egg was sold for a record sum of nearly nine million pounds (12.5 million euros, 18.5 million dollars) on Wednesday, the auction house Christie's in London said.
The intricate treasure was made in 1902 by Peter Carl Faberge for the Rothschild banking family and contains a diamond-encrusted cockerel which pops out every hour to flap its wings and nod its head while crowing.
The prized object was snapped up by Russian collector Alexander Ivanov, head of the Russian National Museum, currently under construction and slated to be the country's biggest private museum.
He pledged to take the egg home.
"It will be brought back to Russia.  Russia will be its permanent home. With this acquisition we are saying 'Russia is going forwards'," he told reporters.
He paid 8,980,500 pounds. "The egg didn't reach as high as it could go. It was a little below the average price, I am very happy," he said.
Anthony Philips, Russian art specialist at Christie's, said: "It's fantastic. It has broken the previous record by some two million pounds.
"It has an amazing fascination for about everybody. It's just a magic name, a romantic association," he added, saying the Rothschild egg "is a stunning work."
The previous record for a Russian object was established when the Faberge Winter Egg sold at Christie's in New York in April 2002 for 9.58 million dollars.
One of only three known examples featuring a clock and a mechanical figure, the Rothschild egg is unusually large and is enamelled in pink with gold detailing.
Faberge, a Russian jeweller whose name is synonymous with extravagant craftsmanship, made 50 eggs for the Russian royal family but is only known to have created 12 eggs to similar standards for private clients.
The Rothschild egg was auctioned as part of a week of Russian art sales at Christie's which have attracted a wave of big bucks bids from wealthy Russian business people in London.
A separate auction later Wednesday afternoon fetched 25.8 million pounds, highlighted by the 2.3-million-pound sale of Iurii Pavlovich Annenkov's "Portrait of Aleksandr Nikolaevich Tikhonov", which was a record price for the artist at auction, and double the pre-sale estimate.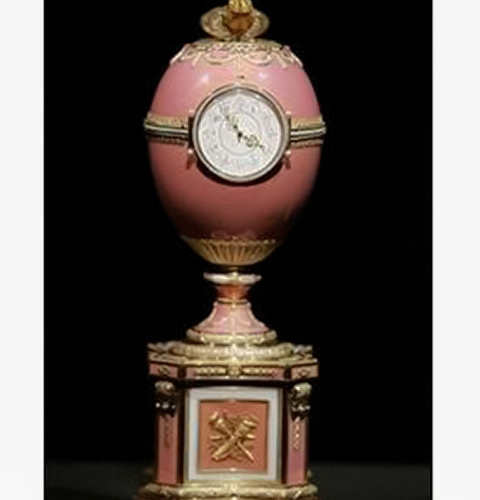 Alexis de Tiesenhausen, the head of Russian pictures and works of art at Christie's, said the fact that the egg went to a Russian buyer illustrated a recent trend.
"For a very long time the buyers were in Europe and in the United States. The Russian collectors entered the arena of the auction some five years ago, so it's a very realistic, normal price," he said.
Chris Martin-Zakheim, owner of a Russian antique and arts gallery in London, said wealthy Russians who did well in the aftermath of the collapse of the Soviet Union were keen to give something back.
"To buy their redemption in Russia, they are buying art and are giving the art back to Russia," he said.
"Paying lots of money here, for lots of art, giving it to the Russian museum, or opening their own museum, and they get their redemption, it's a fantastic system."

Catherine the Great's Emerald Brooch, Emperor Maximilian Diamond Ring (2010 auction)
Create: 19/04/2010
Last reviewed: 28/09/2012
The kingpins of Christie's New York's upcoming auction, Jewels; the New York Sale to be held on April 22nd 2010 are indisputably a dynamic duo; Catherine the Great's Emerald and Diamond Brooch and the colossal Emperor Maximilian Diamond.
Three hundred lots are offered in this spectacular auction, with a big ruckus created by two historical jewels which may never be seen again after the winning bidder makes his coup. The fervor surrounds a magnificent Colombian emerald and diamond brooch owned by the 18th century Empress of Russia, who coincidentally had not one drop of Russian blood in her veins. Catherine was a tireless collector of jewelry, it is reported, because "she fully understood the power of jewels."
The other newsmaker is 19th century Austrian Emperor Maximilian's Diamond which was said to have been in his possession at his death by a firing squad in Mexico following a failed attempt to rule the country.
Abundant information about the provenance of these majestic jewels appears on Christie's website. But like all important jewels with stellar pedigrees, there's always more to learn. In an exclusive interview with Rahul Kadakia, head of jewelry at Christies New York, a few more bits about these headliners come to the fore.
Catherine the Great's Emerald Brooch: Lot 300
The imperial brooch belonging to the Russian monarch comes to sale for the first time in over 40 years. But its prior history is carefully recorded. Catherine gave the brooch to her future daughter in law on the occasion of her son's marriage. It stayed in the family for generations and was finally sold in the late 20th century to an American collector.
The brooch examined by the American Gemological Laboratory (AGL) was determined to be of Muso, Colombia origin, said Kadakia. Great care was exercised in examining the brooch, and owing to its age, the emerald was not dismounted for fear of damage to the ancient setting. Instead, estimation by measuring the piece determined the approximate carat range to be between 60 to 70 carats. "The exact carat weight is not critical to a piece of this importance; the brooch itself is what matters," Kadakia notes.
Personally speaking, would Kadakia prefer that this historic piece go to a museum rather than a private collector? "Of course, it is my hope that the next owner, whether a museum or individual, respects the history of this piece," allowing it to be appreciated by many people over time. One detail about its mounting may surprise some jewelry collectors. The brooch is actually made of gold which is covered (topped) with silver, a popular practice of the period, and something that jewelry anthropologists might expect when examining a white metal piece made in the 18th century.
More information (article, video) on the brooch and its use by Catherine the Great can be found on this page on Christie's website
Emperor Maximilian Diamond: Lot 219
The 19th century Brazilian origin diamond, owned by Maximilian of Austria has a backstory rife with power, privilege, adventure, and abandonment. Once weighing nearly 42 carats, the enormous modified cushion diamond was secreted in a small pouch tied around the sovereign's neck when he faced execution along with his generals in a failed attempt to rule Mexico. His widow spiraled down into mental illness thereafter and the diamond was sold to pay off her expenses for the rest of her long life.
Later, an American owner exhibited this rare diamond at the 1934 Chicago World's Fair and refused to sell it during his lifetime. There are only a handful of dealers worldwide who can bid on such an important stone. London dealer Laurence Graff once owned this diamond and sold it to Imelda Marcos in the 1980s. Auction pundits speculate that he could buy it back this time around. It would not be the first time a dealer buys, sells and buys back a matchless stone like the Maximilian diamond.
In the 1990s, the diamond was re-polished to its current weight of 39.55 carats. " It was likely re-cut to improve clarity and perhaps remove small imperfections around the girdle," surmised Kadakia. Collectors the world over will be able to bid on this impressive diamond currently set in a Cartier platinum mounting. The Gemological Institute of America (GIA) graded the stone as I color and VS1 clarity.
Provenance or not, some diamonds are so distinctive that they can be absolutely identified with or without paperwork. The Hope diamond is one such famous stone. Its idiosyncratic bright red fluorescence makes it absolutely identified by an expert. The Emperor Maximilian diamond displays a 'very strong blue fluorescence' when exposed to long-wave ultraviolet (UV) lighting. A blue color occurs in other diamonds that do fluoresce, however "the particularly strong blue response is a positive identifying trait with this diamond," said Kadakia.
More information on the diamond ring (article and video) can be found on Christie's page
Other Jewels to Watch
These important jewels could eclipse other remarkable items up for bid, unless one is cognoscenti when it comes to world-class collectibles. Is there another item in this sale Kadakia is keeping an eye on? "A fancy vivid blue round cornered rectangular cut diamond should realize over $2 million," he believes. At 3.43 carats, the stone is 'the thing' even though it is expertly mounted in a platinum ring with trapeze shaped side diamonds. Follow or bid at this unique event for a glimpse into history, April 22, 2010, Christie's New York
Items referenced in this story
Lot 300 Sale 2306 Catherine the Great Emerald and Diamond Brooch
Lot 219 Sale 2306 the Emperor Maximilian Diamond
Lot 292 Sale 2306 Fancy Vivid Blue Diamond
More about the author Diana Jarrett GG

Sotheby's, NY, 09-20-2012: Art Deco Platinum and Diamond Brooch, Van Cleef & Arpels, France, Circa 1928
Create: 17/09/2012
Last reviewed: 17/09/2012
Estimate: 18,000 - 22,000 USD
Centered by a round diamond weighing approximately .95 carat, further set with smaller round diamonds weighing approximately 10.00 carats, signed Van Cleef&Arpels, numbered 30477, with French assay and workshop marks.
Art Deco - my favorite era! This is a superb example of the type of jewelry being created by Van Cleef&Arpels during this time. The Art Deco period (1920-1935) produced dazzling jewelry that was dramatically different from the jewelry of the previous eras.
From the soft colors and flowing lines of the Art Nouveau and Edwardian eras to bold bright colors and straight lines that made these statement pieces.Geometric cuts for gems complimented the symmetry and streamlined look of Art Deco jewelry. It was a wonderful time of change - making things fresh and modern - not just jewelry, but architecture, cars and clothing.

Bonhams, London, 09-19-2012: "The Leinster Brooch", early 19th century
Create: 18/09/2012
Last reviewed: 18/09/2012
4 An early 19th century diamond bow brooch known as "The Leinster Brooch"
Estimate:
BP: $4,000-6,000
US:  $6,300-9,500
Stylised openwork bow, collet-set throughout with cushion-shaped diamonds, mounted in silver and gold, diamonds approximately 7.90 carats total, later detachable brooch fitting, length 5.3cm, cased by Phillips Bros & Son, 23 Cockspur St, London
This is a lovely example of a 19th century diamond bow brooch made all the more valuable due to its provenance. Given by the Duke of Leinster (1749-1804) to his daughter, Lady Isabella Charlotte. It is known within the family as The Leinster Brooch. It was also worn by a family member at the Coronation of Queen Elizabeth II in 1953 at Westminster Abbey.
The bow brooch would be worn at the bosom and is a design that continued into the 20th century and beyond.  Bow

Bonhams, London, 09-19-2012: Diamond "Stomacher", early 18th century
Create: 19/09/2012
Last reviewed: 19/09/2012
Estimate £6,000 - 8,000
US$ 9,500 - 13,000
Set to the centre with a highly stylised cushion-shaped, old brilliant and single-cut diamond anthemion motif, circa 1820, within a late 18th century radiating border of rose-cut diamonds, mounted in silver and gold, rose-cut diamonds in closed-back settings, old brilliant-cut diamonds approximately 3.80cts total, central anthemion motif has been converted to a separate brooch, border detaches to form four separate brooches, length 10.9cm
This Georgian period jewel is significant for its place in jewelry history and is desirable for that reason as well as for its provenance. Family lore says that it was given to Lady Katherine Manners (d. 1829) by her mother the Duchess of Rutland (1756-1831) as a wedding gift in 1800 when she married Cecil Walk Forester, 1st Baron Forester (1767-1828). It descended through the family to its present owner.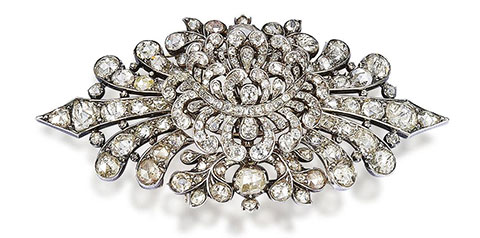 This form of large ornament , known as a stomacher, was the perfect accessory to fit into the front section of a woman's gown which formed a v-shaped between the neck and waist and was also known as a stomacher. It could be sewn onto the bodice of a dress. In the 19th century this type of jewel continued to be worn in brooch form.
This is a somewhat specialized piece for a serious collector but valuable because they do not come on the market frequently. They are primarily European in design and one would be hard to find at auction in the United States or in Asia.

Bonhams, London, 09-19-2012: A gold and micromosaic hinged bangle, circa 1870
Create: 19/09/2012
Last reviewed: 19/09/2012
A gold and micromosaic hinged bangle, circa 1870, inner diameter 5.2cm, fitted case by Cav.L.AGallandt.
Estimate:
£8,000 - 10,000
US$ 13,000 - 16,000
The wide gold bangle of intricate wirework and beaded decoration with a micromosaic plaque on the frontwhich depicts Apollo driving the Carriage of the Sun surrounded by the Hours and preceded by Aurora. On the reverse the word 'ROMA' is shown in applied wirework..This micro-mosaic plaque is a after a fresco painted by Guido Reni, circa 1612, at the Palazzo PallaviciniRospigliosi in Rome.
Micromosiac work if among the finest examples of 19th century archaeological revival jewelry. Based on ancient Roman mosiacs, the designs are formed with tiny tesserae of glass and are highly sought out by collectors. They were purchased when people did the "Grand Tour" of Europe and stopped at the fine jewelry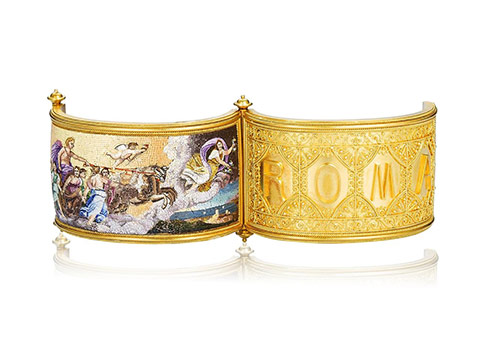 houses in Italy. Later several of the important houses opened shops in London where this jewelry became "all the rage".
Micromosaic jewelry is still very popular with collectors even as other Victorian jewelry has become less so. The delicacy of the work is appealing and this particular design is unusual and arresting.

Bonhams, London, 09-19-2012: An art deco diamond and ruby bracelet, circa 1935
Create: 20/09/2012
Last reviewed: 20/09/2012
Designed as a series of articulated geometric plaques, with pierced and openwork detail, set throughout with brilliant and single-cut diamonds and calibré-cut rubies, diamonds approximately 4.45 carats total, one ruby deficient, length 16.4cm
Estimate:
£4,000 - 6,000
US$ 6,300 - 9,500
This is a very nicely designed of the period Art Deco bracelet.
Endless variations of Art Deco bracelets were designed and were extremely popular in their time and still are with collectors today. Often designed with contrasting colors as in this bracelet with ruby accents gracefully interspersed with diamonds, diamonds being the most popular gemstone of this style period. Lapidaries of this time were producing a wide assortment of geometric gem cuts including baguettes, emerald-cuts, triangles and shields Earlier Art Deco bracelets featured more color while later were often completely white...this example falls somewhere in between.
Art Deco jewelry holds its value well and continues to appreciate. Especially when it is well made with good design. This is reasonably priced because they maker's name is not known but that does not effect its elegance.
Note: metal is not mentioned so unknown. Platinum?

The Origin of Ancient Emeralds in antique jewelry
Create: 13/06/2008
Last reviewed: 18/09/2012
Where do Emeralds in antique jewelry come from?
Emeralds are among the most prized of gemstones. Owners understandably want to know about the source of these valuable gems in specimens and jewelry. Suppose however that the emerald is set in a Gallo-Roman earring, or in a 13th Century French crown, or a sunken Spanish galleon? What clues could one find in order to deduce the gem's history and origin without destroying the priceless object? A newly applied scientific technique from a team of French researchers may hold part of the answer (Giuliani et. al., 2000).
This technique uses oxygen isotopes within the minerals. To give a little "chemistry-lite", most elements, including oxygen, come in several varieties, called isotopes. Isotopes differ from each other in having different numbers of neutrons in the nucleus. Some isotopes are radioactive and break down. Many are not radioactive and are called stable isotopes. The isotopes of oxygen are stable, and behavior mostly alike. You breath all of them in any one breathe. However the ones that are slightly heavier (another neutron or two in the nucleus) do behave slightly differently from those that are lighter. For example, water that evaporates from the sea has more of the light isotope in it than the heavier stuff left behind. This persists in rain water. So a mineral formed from rain water will have a different mix of oxygen isotopes in it than one that forms from sea water - or groundwater - or volcanic water. Each source of water has a slightly different identifying ratio of these oxygen isotopes in them.
So how does this relate to emeralds? Emeralds from various districts (and even mines within districts) have different oxygen isotope ratios in them - different oxygen "fingerprints". The French geochemists measured these values for many emeralds from known localities, then compared them to emeralds whose origins were not known. Fortunately these tests require only a tiny amount of material, and are not destructive to the gem.
Their tests lead to several surprising results. The emeralds in a 17th century French crown originated from Habachtal emerald mines in Austria. An emerald in a Gallo-Roman ring best matches the emeralds from the Swat-Minguora district in Pakistan. This ring dates back to 500 BC. It was previously thought that emeralds at that time were known only from Egypt and Austria. The new findings show that trade was going to Rome along the Silk Road long ago. An emerald from a Spanish Galleon sunk in 1621 was from the Muzo area in the western emerald district of Columbia., showing how rapidly the mines developed after their discovery. An emerald from a gem treasury in India was also from Columbia, showing an influx of New World gems into Old World collections in the 17th and 18th centuries.
Similar techniques are being developed for rubies and sapphires. As more sources for gem and more artificial gems come on to the market, such analytical tools will be increasingly important as ways to evaluate and validate gems from a variety of sources.
- Dr. Bill Cordua, University of Wisconsin-River Falls
Reference: Giuliani, G., et al., 2000, "Oxygen Isotopes and Emerald Trade Routes Since Antiquity", Science, vol. 287, p. 631 - 633.

Jewels, Gems and Treasures: Ancient to Modern
Create: 19/02/2011
Last reviewed: 19/02/2011
July 19, 2011–November 1, 2012
Rita J. and Stanley H. Kaplan Family Foundation Gallery
Jewels, Gems and Treasures is the inaugural exhibition in the Museum's new Rita J. and Stanley H. Kaplan Family Foundation Gallery. The gallery will have rotating exhibitions and will draw primarily from the MFA's jewelry collection of more than 10,000 ornaments. Among the jewelry to be displayed in the inaugural exhibition is an ancient Egyptian pectoral from an elite burial, several Nubian hard-stone pendants from the burial of a Kushite queen, the 1856 diamond wedding necklace of Mrs. Samuel Colt, a diamond and gold suite once owned by Mary Todd Lincoln, and Marjorie Merriweather Post's platinum and diamond brooch with a 17th -century, carved Mughal emerald. The exhibition also includes a selection of ornaments from the Daphne Farago Collection of studio jewelry.
This collection, which consists of approximately 650 pieces of contemporary craft jewelry designed and made by leading American and European artists, is the most comprehensive collection of 20th-century studio jewelry ever assembled. The MFA is the first museum in the country to have established a jewelry curatorship.
Jewels, Gems and Treasures examines the various roles and meanings associated with a wide range of gem materials as presented in necklaces, rings, bracelets, pendants, brooches, and other jewelry. It explores how, in the West, we have come to regard diamonds, pearls, emeralds, sapphires, and rubies as the most precious of materials, but that throughout the course of world history, other substances have commanded equal attention, including materials that are largely ignored today.
Kingfisher feathers, tiger claws, jet beads, and mica appliqués were at one time worn in different parts of the world with great pride. Some materials, such as coral and rock crystal, have served a protective role—perceived as being able to guard its wearer from dangerous circumstances or malevolent forces. Other substances, especially those that are rare and available to a select few, are signifiers of power, as defined by wealth.