Art Nouveau: Style and Influences
Starting around 1895 a complex phenomenon had been unfolding in Europe as a reaction to a world of art dominated at the time by the precise geometry of Neoclassical forms characterized by order, symmetry, and simplicity of style.   This  "new" philosophy became known as Art Nouveau and it was characterized by an organic style which was highly decorative, inspired by natural forms and structures, not only in flowers and plants but also in curved lines.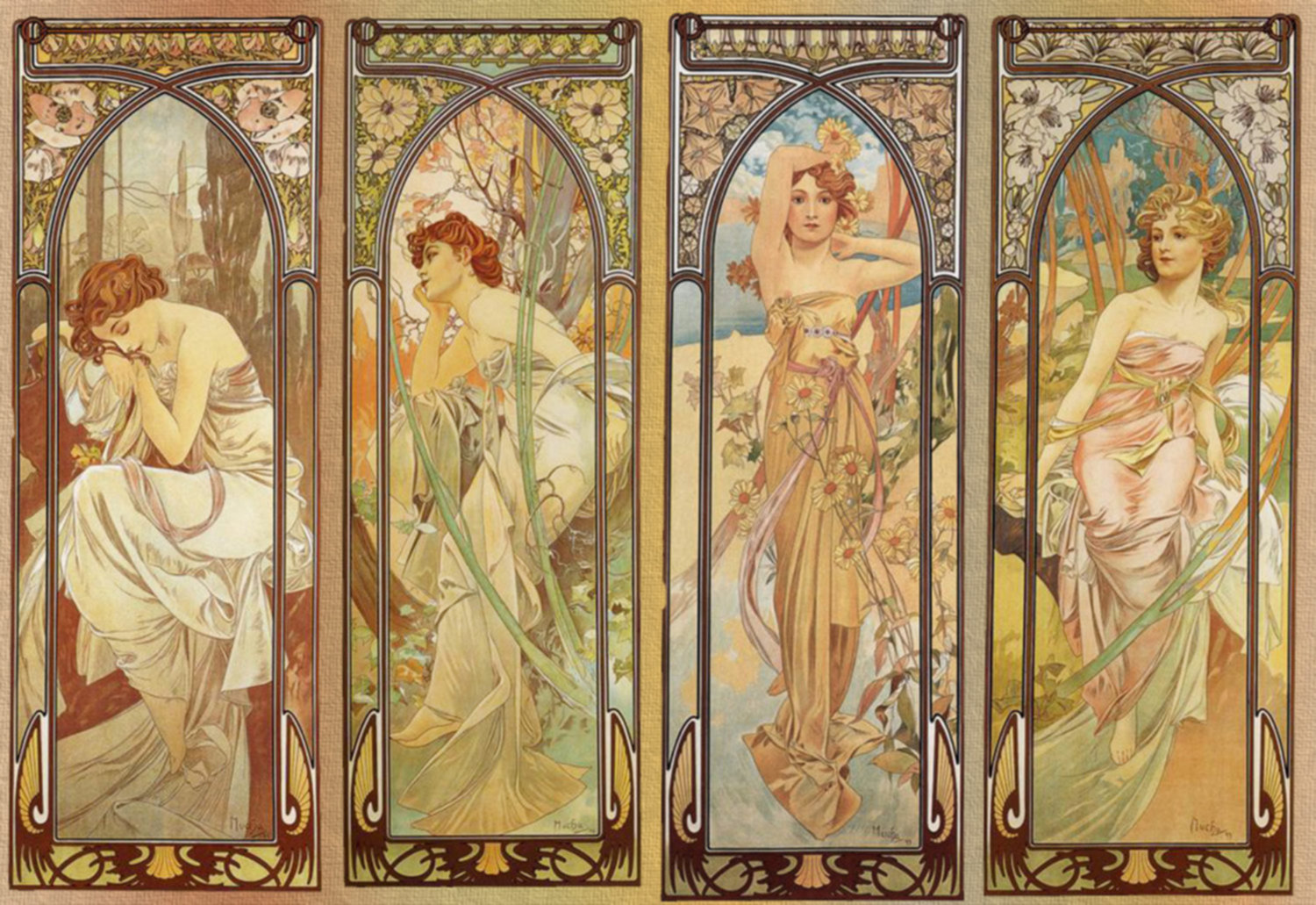 Art Nouveau jewelry created in France, Belgium, and other parts of Europe by a select group of avant-garde artists at the close of the nineteenth century was revolutionary. It reinvigorated what had become a formulaic naturalism with new forms drawn from outside sources, including the arts and crafts movement in Great Britain and the arts of Japan. The jewelry was also remarkable in that it redefined notions of preciousness. Platinum and diamonds, the preferred materials for high-style jewelry, were abandoned in favor of gold, enamel, colored gemstones, horn, and glass.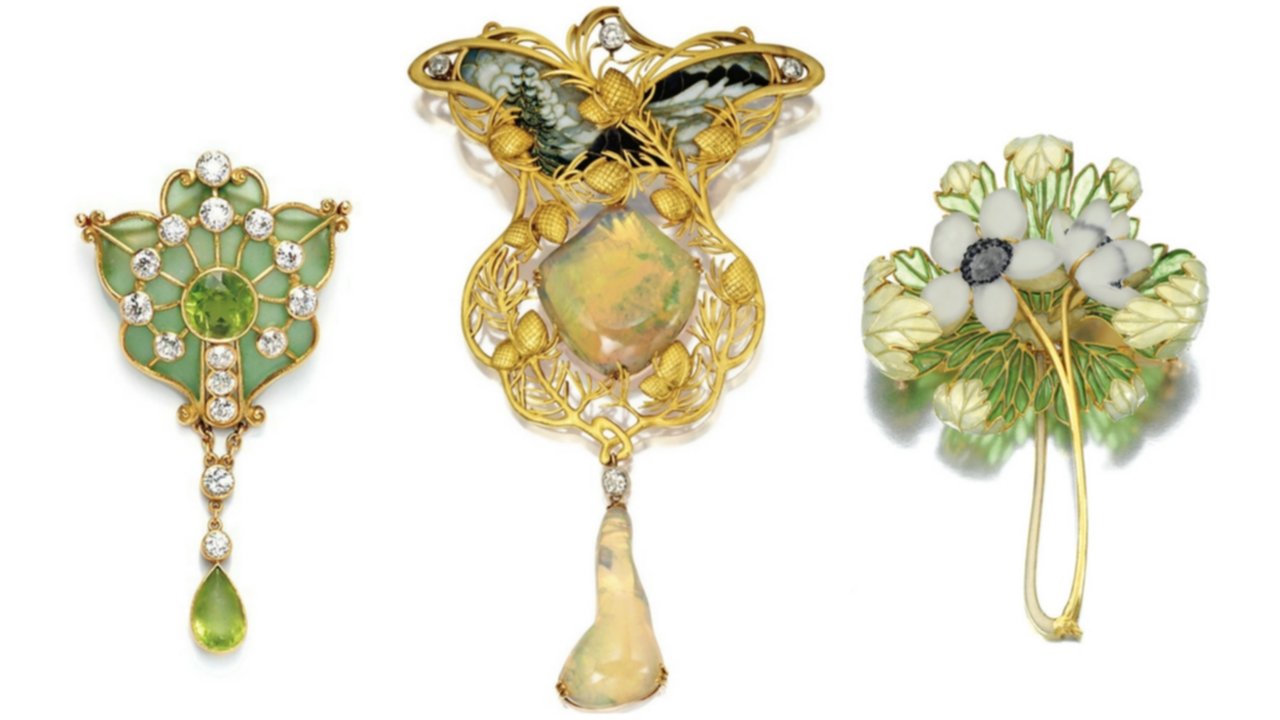 One of the major influences on Art Nouveau was the Symbolist Movement, which began in the 1880s. Imagery adopted by this group combined religious mysticism with eroticism. Art Nouveau combined inspiration from this source with some of the elements of Arts and Crafts philosophy; it is also highly varied and asymmetrical which reflected the political unease of the period. Art Nouveau, traces of which are discernible in the art of the Pre-Raphaelites and even in that of the 18th-century visionary poet William Blake.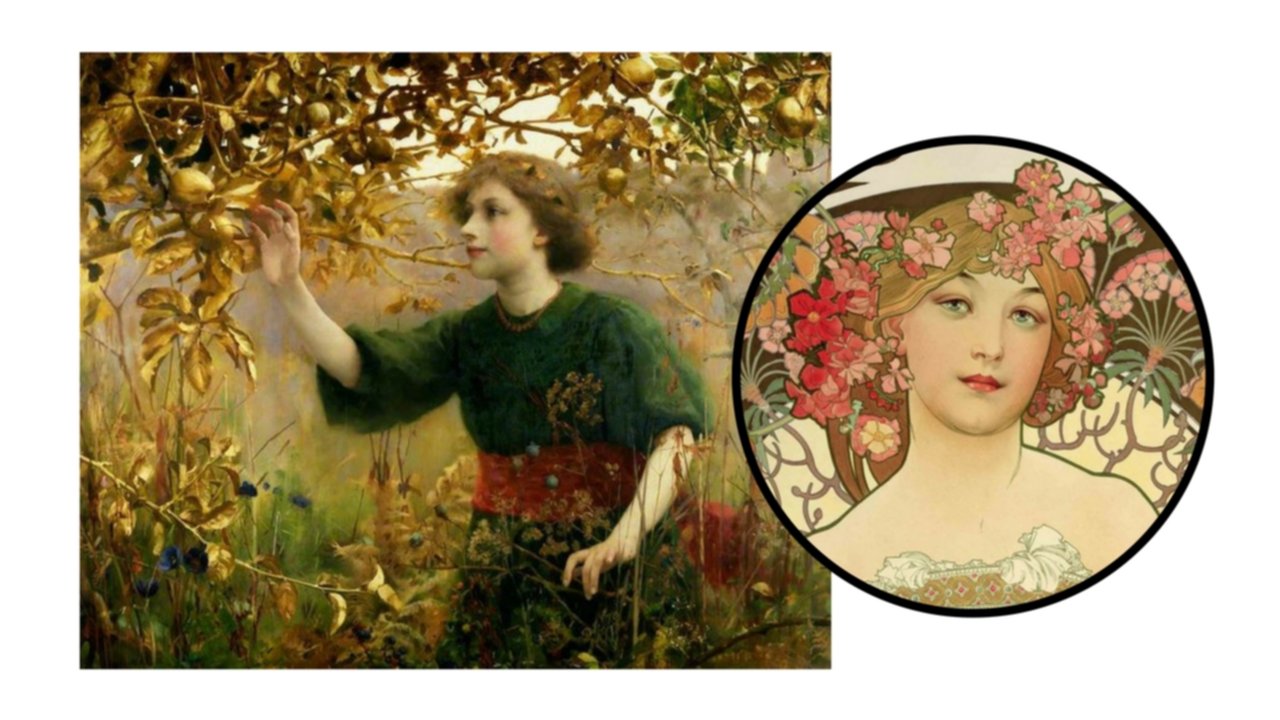 Art Nouveau concentrated on the treatment of surface decoration. It is also characterised by long curving lines based on sinuous plant forms, and an element of fantasy. It was primarily a decorative style and as such was used particularly effectively in metalwork, jewellery, and glassware, and in book illustration, where the influence of Japanese prints is often evident. Another ubiquitous presence is the femme fatale – the seductive nymph of Pre-Raphaelite paintings.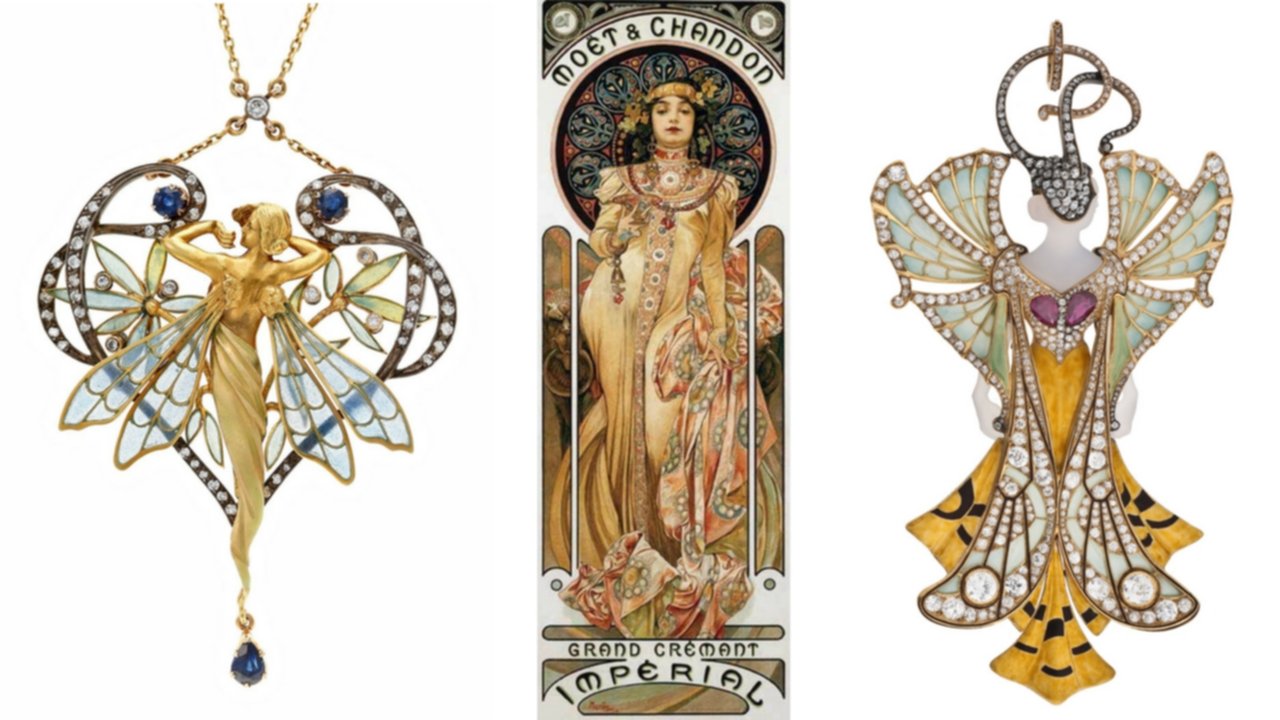 Art Nouveau Jewelry: Leading Designers
Two of the leading exponents of Art Nouveau were Louis Comfort Tiffany, whose shimmering Favrile-glass vases and stained-glass lampshades were fantasies of iridescence, and René Lalique (1860-1945) who was a French jeweller and glassmaker.
Lalique became a designer of jewellery for firms such as Boucheron, Vever, and Cartier. Breaking free from historical styles, he based his designs on plant, bird, and insect forms.  Emphasizing design rather than the costliness of material, he used enamel, ivory, glass, and horn as often as semiprecious stones and gems. His work had a profound effect throughout Europe.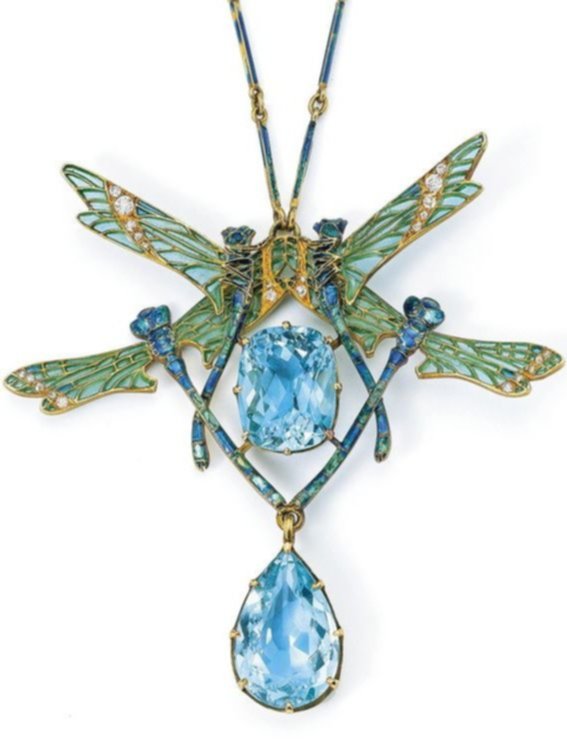 Art Nouveau Jewelry: Techniques
Extensive Use of Enameling
Along with the creative energy came a mastery of technique in casting and carving of gold as well as the extensive use of enameling as never seen before. Probably the single most important technique used by Art Nouveau designers was enameling. The type of enameling used most often was known as Plique a'jour. Plique a'jour is defined as enameling that is transparent with no backing. The effect most often achieved by Plique a'jour enameling is likened to that of stained glass. The technique of applying this type of enameling was extremely difficult and very popular because it exemplified the jeweler's skill and artistry.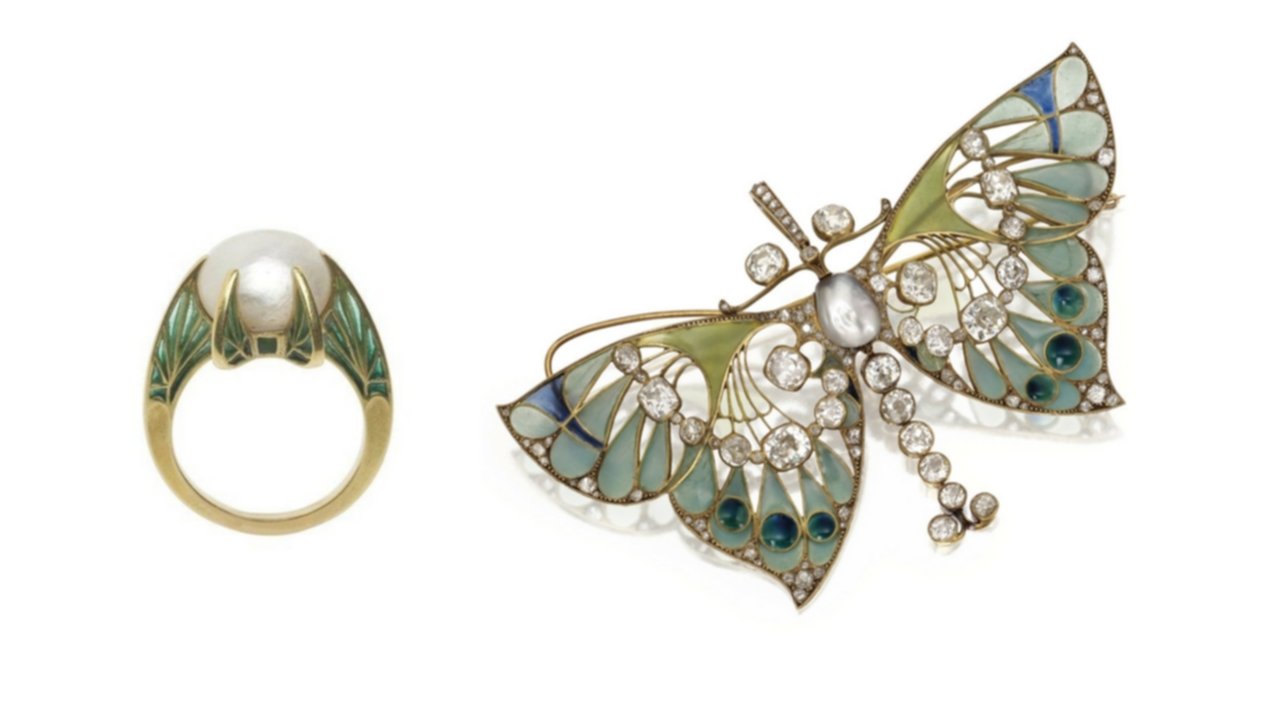 This effect gave Art Nouveau jewelry a distinctive appearance much like a three dimensional painting. Other types of enameling that were also popular were basse-taille and guilloche enameling, techniques that required engraving the metal or raising a design, then fusing a thin layer of transparent enamel over the work. These and the techniques of Cloisonné' Chamieve' were made popular by Faberge in Russia around the turn of the century. Many times a craftsman would combine the use of different methods of enameling on the same piece.
Art Nouveau Jewelry: Collection Desirability & Designers
The Ultimate Question:  should you add Art Nouveau to your jewelry collection?
Art Nouveau was a short-lived period in jewelry design. Some of the most popular materials such as enamel which forms a hard, durable surface, are susceptible to chipping and breakage upon impact. Therefore finding pieces in excellent condition are not abundant which makes them highly desirable.
Sage advice for any collector is to familiarize yourself with the most noteworthy designers or "Influencers" of a style.  So we end this with guide with some of our favorites (click on the images below to enlarge):
René Lalique
Paul and Henri Vever
Louis Comfort Tiffany
Philippe Wolfers
Paulding Farnham
Georges Fouquet
Henrie-Auguste Solié
Henri Dubret
The jeweler Rene Lalique was one of the most celebrated artists of the art nouveau movement. In his creations, symbolic and naturalistic elements flow into and join forces with lyrical components to produce an exotic effect. Lalique had been a student at the Ecole des Beaux Arts. By the time he was twenty-five, in 1885, he had set up a jewelry workshop in Paris. His first public appearance in the Salon de Mars in 1895 created a sensation. In 1900 he was the undisputed victor at the World's Fair.
Lalique's work also represented a reaction, this time against the highly developed but stagnating art of jewelry design that prevailed in imperial Europe. The jewelry of the period was extraordinarily valuable. Diamonds continued to be the favorite stone and were often artfully combined with emeralds and sapphires. Indeed, the value of a piece of jewelry was measured only by the quality of its stones and the way they were cut. For Lalique , design became much more important than the costliness of a particular stone.
He regarded a piece of jewelry as if it were a painting; thus, it had both an illustrative and a narrative function. His jewelry has a "fairy tale" quality because it combines "poetic content" with rare and exotic esthetic beauty.
In Lalique's jewelry, delicate leaflike structures send forth shoots and tendrils that appear to come together of their own accord to form a piece of jewelry. In the example reproduced here, the graceful, curved body of a sea nymph, whose hands provide the setting for a decorative stone, forms a diadem (figure above).
Lalique shared with other art nouveau artists a preference for unconventional motifs drawn from symbolic naturalism. He, too, regarded plants as living beings. Like the others, he chose flowers, primarily withered ones, as decorative elements. Finally, Lalique also frequently used mythical figures such as mermaids, seahorses, and young maidens rising from the calyxes of flowers. Flowing hair, which was regarded as a fascinating medium for expressing movement in a manner that was at once provocative and full ofsymbolic charm, is delicately stylized in Lalique's works.
Lilies, orchids, water lilies, and butterflies are captured and preserved in transparent objects of extraordinary sumptuousness. Just as a highly developed technique in the art of glassmaking was a prerequisite for the glass objects of art nouveau, so, too, Lalique's artistic achievements as a goldsmith were based upon earlier experiments with semiprecious stones, enamel, and cloisonne.
Among Lalique's contributions was the development of new subdued tones whose beauty was enhanced by light, especially natural light. Unlike diamonds, which sparkle all the more brilliantly in artificial light, Lalique's creations reveal the full beauty of their coloring in the light of day. As a complement to his subtle coloring, Lalique also successfully  employed a whole range of new materials: semiprecious stones, amber, mother-of-pearl, tortoise-shell, horn, pearls, and base metals. Lalique's jewelry creations were hybrids, a combination of sculpture, painting, and arts and crafts, and it is this union which is ultimately responsible for the unique and enchanting effect of his works.
Lalique's art was often imitated, not so much by jewelers but by architects, painters, and craftsmen. The most important of these artists were Alphonse Maria Mucha, Henry Vever, and Eugene Grasset.
Mucha, who was born in Czechoslovakia, was a very versatile artist. Between 1898 and 1905 he designed works for the Parisian jeweler Georges Fouquet. One of these pieces, a brooch, is a portrait of Sarah Bernhardt as Melisande. Mucha's favorite theme was woman, an archetype represented in all his works as a mysterious, dreamlike being.
A water nymph adorns the comb designed by Grasset, who embodied the attitude of yearning typical of all art nouveau artists in the dreamlike, delicate female figures that appear in all his pictures, sculptures, and graphics.
Lalique's most skillful imitator and a virtuoso in his own right was the Parisian jeweler Vever. However, traditional elements such as diamonds and other precious stones again became important in his work. In Vever's pieces, the artist triumphs over the lyric poet.