Fukang Meteorite containing Gem Peridot

On April 30th Marvin Killgore offered the Fukang Meteorite with large gem like Peridot crystals for auction through Bonhams for an estimated value of close to $ 2,75 million. Six months before an auction of two rare and pricey meteorites had failed but there was hope that this meteorite would sell.

This meteorite is one of a very rare class of meteorites: Pallasites. Normally Pallasites are composed of approximately 50 per cent Olivine crystals (sometimes even gem material) and 50 cent nickel-iron. That in itself is rare: Only less than 1 % of meteorites are Pallasites. What makes the Fukang Meteorite even more exceptional are the large "chunks" of crystallised Olivine in it. Olivine is better known as "Peridot" amongst the gemological community, hence the use of expressions such as "gemstone meteorites" to describe Pallasites. This particular meteorite is an estimated 4,5 billion years old.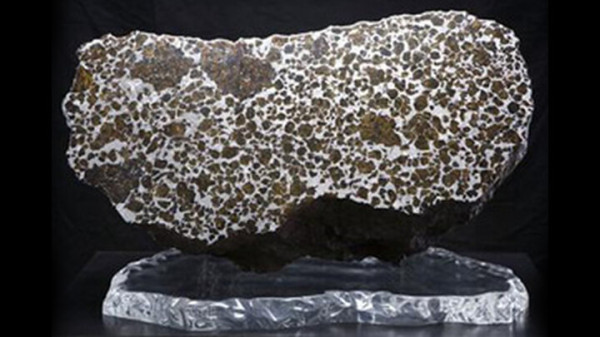 Additional References and Cat's Eye Peridot:

George Frederick Kunz (Tiffany's leading gemologist, builder Morgan's gem collection, later donated to the American Natural History Museum in NY) wrote a page in the US Geological Survey of 1892 on Peridot/Pallasite Meteorites including cat's eye Peridot.

About Peridot:

Peridot has been a popular gemstone, usually cut, but sometimes used in cabochon to show chatoyancy: the "cat's eye" effect. Peridot as found on earth is mostly mined in Northern Pakistan: it requires one week travel in trucks over dirt roads before you arrive in these remote areas. Since the walls are so hard, explosives are placed in mountain walls create debris from which the Peridot pieces can be collected. Some Peridot crystals are so large that they can be carved into a mini-sculpture: a three-dimensional piece of art. We will publish an article soon.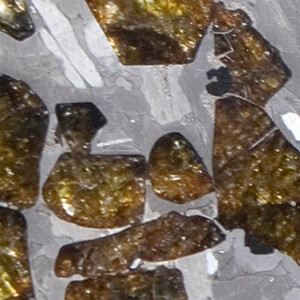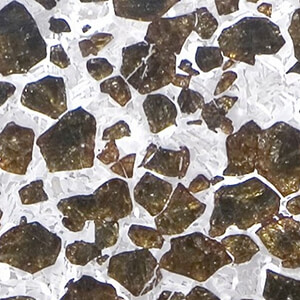 The auction did not sell however. You can find the extensive description of the meteorite by Bonhams below:

World's Most Spectacular Meteorite for Sale at Bonhams

Containing spectacular olivine crystals – which are sometimes referred to as "gemstones from outer space" – the main mass of the peerless Fukang meteorite will be offered by international fine art auctioneers Bonhams on Wednesday, April 30, 2008 at its salerooms in New York.

Weighing more than 925 pounds, the Fukang meteorite is expected to bring in a figure in excess of a $2m at the auction. Its rarity, impressive size and superlative quality combine to make this piece one of the most valuable meteorite specimens in history.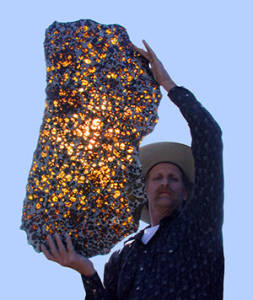 Discovered in Fukang, Xinjiang Uygar Province, China in 2000, Fukang is widely acknowledged as the world's preeminent pallasitic meteorite and is arguably one of the most magnificent meteorite finds of the 21st century.

The specimen to be offered is not only the "main mass" of the meteorite, a distinction considered highly desirable by meteorite collectors, but it is also the only Fukang specimen found. Meteorites typically explode after entering the Earth's atmosphere,
often blasting the original body into tiny pieces. Impact with Earth sometimes vaporizes the main mass of a meteorite completely. Yet, this massive survivor endured tremendous atmospheric and impact forces to transport its bounty of rare olivine crystals to Earth.

Classified as a Stony Iron Pallasite and exhibiting large, highly refractive translucent olivine crystals unmatched by other pallasites, Fukang's nickel-iron matrix is replete with the "outer space gemstones", highly prized in this rare category of meteorite. The quality of some of the yellowish-green crystals is so fine that they may be classified as the gemstone peridot. Experts initially considered placing Fukang in a new and separate category from other pallasites. It is structurally unique given the number and comparatively immense size of its coveted olivine crystals. According to Natural History Department Director Thomas Lindgren, "Less than 1% of all meteorites are pallasites, the most alluring of all meteorites due to their aesthetic appeal." Pallasites – meteorites composed of approximately 50% olivine and peridot crystals and 50% nickel-iron – are thought to be relics of forming planets.

The nickel-iron matrix in which Fukang's "space gems" are imbedded is classified as "medium octahedrite" based on the size of the crystalline structures. These structures, known as "Widmanstatten patterns," are diagnostic of extraterrestrial metal. Nowhere on Earth is this pattern seen. In order for Fukang's crystalline structures to form, the metal matrix cooled, with no gravitational influence, at a rate of only a few degrees per million-year period. Fukang is thought to be 4.5-billion years old – the same age as our solar system.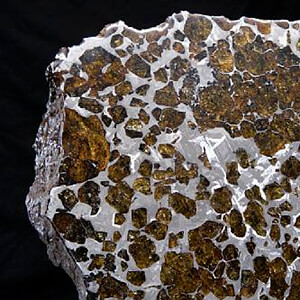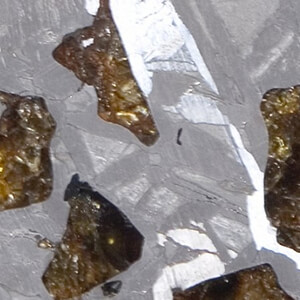 Cut and polished to provide a large 19×36-inch window into its wondrous mosaic of extraterrestrial crystals, this unparalleled discovery is an astounding treasure – a phenomenal and prestigious centerpiece for any natural history collection.

This spectacular lot will be on exhibit only within the Bonhams New York City salesrooms as of April 26th. Highlights from the auction will preview in Los Angeles at the Sunset Boulevard salesrooms of Bonhams & Butterfields on April 11-13. The entire sale will then open for preview in Manhattan April 26-30. The illustrated auction catalog will be online for review and purchase in the weeks preceding the previews at http://www.bonhams.com/us.